While consumer trends have waxed and waned over the years, and the locations of assembly centers have changed, the basics of electronics manufacturing really haven't changed much since the 1980s: If you want to bring an electronic device to market, you need to use an assembly electronics contractor to make it happen.
A private individual or small business simply does not have the resources to manufacturer their own electronics these days. The trade has become extremely complex, with dozens of international standards that have to be adhered to if you want assurances that your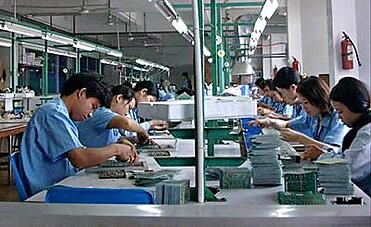 electronics will perform up to global expectations.
However, simply hiring an electronics assembly plant by itself is no guarantee of lower costs or greater sales. With a world full of outsourced manufacturing centers, it's easy to find a cheap center that produces cheap products... but it's hard to find a truly cost-effective manufacturer who provides the best ROI on your manufacturing budget.
Lowering Your Production Costs With Smart Assembly Electronics

When it comes to hiring an outsourced assembly manufacturing electronics firm, what separates the good investments from the bad is in what else you get for your money. Sure, there are plenty of factories that can produce virtually anything you want for pennies on the dollar, but you get what you pay for. Such electronics are often only suitable for dollar stores and similar discount retailers.
If you want a reliable product which you'd be proud to have in any store in the world, here are a few things to look for in your electronics manufacturer:
Superior supply chain management: Counterfeit parts are a major concern in modern electronics manufacturing. Many of the inexpensive production plants knowingly use dodgy parts in their electronics, leading to numerous customer service and engineering headaches down the road. Select a manufacturer with the supply chain skills needed to guarantee authentic parts and the reliability that comes with them.

All-in-one assembly: There's no need to outsource your electronics production to more than one manufacturer. A complete assembly electronics solution can handle everything from the initial circuit board printing to the final assembly of your product. Supply chain logistics become increasingly challenging the more you outsource, so don't make your life more difficult (and wasteful) than it needs to be.

Testing services: A quality electronics plant will stand by its work with robust product testing facilities which can ensure your product is "ready for prime time" before you ramp up full production. A little extra time and care spent in testing early on will save you significantly on post-sale support, and give you a better reputation to boot.

High complexity: In electronics assembly, jobs are often rated by their complexity. That is, how many variations on the same design they can produce in the same production run. A better manufacturer will be able to handle higher levels of complexity, allowing you to give your customers more options and more price points. Discount manufacturers generally cannot support many different builds at once, limiting your marketing options.

Local manufacturing: Studies are increasingly showing that outsourcing to foreign countries has a much higher TCO than was generally thought and, of course, that means a lower ROI. While the core manufacturing prices may be higher when employing a domestic manufacturer, you gain it back in reduced support costs, shorter pipelines, and higher reliability. "Made in the USA" still means a great value for the money.
When you look for outsourced electronic assembly solutions, research is the key. Don't simply follow the conventional wisdom and look for the cheapest offshore facility you can find; the hidden costs of this choice will stack up as time goes on, with few good options for mitigating them.
Quality is worth paying a little extra for. Pick an electronics assembler who will give you the best product for your money, not just the cheapest.