Although our electronics are constantly evolving, there are still many cases in which repair is more practical or economical than total replacement or upgrades. Regardless of whether one of your product prototypes is not functioning properly, your customer is in possession of a faulty device, or you simply don't feel as though a piece of equipment is performing as well as it should, there are many reasons that one might need to look into PCB board repair. Of course, no one wants to spend an arm and a leg on a simple fix-it job, so it's important to understand how to go about finding the best repair service. By following this simple three step guide, you can easily select a high quality and affordable manufacturer to handle your PCB board repair with speed and precision.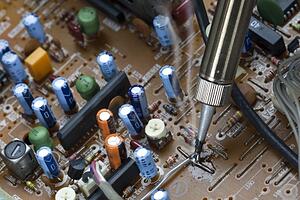 1. Understand Your Need

The first step to locating a PCB board repair service at reasonable rates
is to understand what type of work your product actually needs. Troubleshooting for a major component failure will require a different financial investment than completely modifying a device. And if you already know that a certain aspect of your product needs to be reworked, or know what is causing poor performance, there's no need to waste the time and money required to troubleshoot the issues. The more information that you have about the problem, the more affordable the PCB board repair process will be. Here are several common PCB maintenance scenarios that may arise:
Troubleshooting/Repair - If your electronic device (or a part of the device) has failed and you don't know why, you'll need a PCB board repair service to troubleshoot for the issue. By analyzing the design schematics as well as the physical board, the underlying problem can quickly be determined. In many cases, a bit of broken wiring or one component may be creating the problem, and a simple replacement will do the trick.
Reworking - In the event that the initial design is flawed, a little more investigative work may need to go into solving the issue. By comparing the design specs with the current prototype or product, your repair service will be able to determine which component is causing the problem, and find a suitable replacement.
Modifications - When the PCB board is working, but it isn't working as well as you'd hoped, a repair service can help you to improve the working design and get your product up to par.
2. Stay in the USA

One of the best ways to get affordable rates on your PCB board repair service is to choose an American manufacturer
. Although an off shore manufacturer may initially give you the lowest quote, you may find that things are not what they seem. Many overseas manufacturing companies do not adhere to the same industry standards as we do in in the United States, and that can significantly impact quality. Ultimately, you may need even more repair work down the line. Additionally, the time required to ship your products to a foreign country and await their return will slow down your processes and cost you extra money. Working with an American service will ensure the fastest turnaround and the best repair services.
3. Look for Efficient Repair Processes

In order to keep costs competitive, your PCB board repair service should have an efficient means for troubleshooting and correcting product flaws. By capturing defects via a precise software database, trends can be analyzed for faster results. This not only speeds up the repair process, but it also reduces the amount of overhead costs, as many tasks can be automated through the software program. Ultimately, this means that the repair service company will be able to keep price points as low as possible to customers like yourself.
Insist on getting the most value for your dollar. By keeping these three concepts in mind, you can avoid overspending on PCB board repair services.
Image #1 sourced from (www.freedigitalphotos.net)