I-Connect007's Barry Matties interviews Engineer Jesse Vaughan on the IPC's Emerging Engineer Program in the 2020 Show and Tell Magazine. Read the entire I-Connect 2020 Show and Tell Magazine here.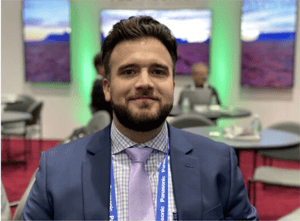 Jesse Vaughan of Zentech is enrolled in IPC's Emerging Engineer Program. In this interview, he reflects on his time in the program and how the industry connections he made are already proving to be beneficial.
Barry Matties: First, can you tell us what IPC's Emerging Engineer Program is about?
Jesse Vaughan: This is the program's sixth year. At its inception, there were three engi-neers. This year, there are approximately 30 in the first-year program. As a participant, we are paired with a mentor. Mine is Kevin Kusiak from Lockheed Martin Space System. We receive a "passport" for the program, and we have to check off certain tasks, such as attending committee meetings or professional development courses. We also have to attend several networking events to meet people, get your name out there, and see like-minded folks in the industry who are on the same path, as well as cross-pollinate across different aspects of the industry.
It's all about getting linked with somebody who has walked the path before you, can show you the ropes, and get you involved with IPC. As you get more involved in the committees, then you have readability into the standards, can give more input, and are able to see how the standards are developed, approved, and sent out to industry to apply to products.
About IPC:
IPC is a global industry association based in Bannockburn, Ill., dedicated to the competitive excellence and financial success of its 5,800 member-company sites which represent all facets of the electronics industry, including design, printed board manufacturing, electronics assembly and test. As a member-driven organization and leading source for industry standards, training, market research and public policy advocacy, IPC supports programs to meet the needs of an estimated $2 trillion global electronics industry. IPC maintains additional offices in Taos, N.M.; Washington, D.C.; Atlanta, Ga.; Brussels, Belgium; Stockholm, Sweden; Moscow, Russia; Bangalore and New Delhi, India; Bangkok, Thailand; and Qingdao, Shanghai, Shenzhen, Chengdu, Suzhou and Beijing, China.
About Zentech:
Zentech Manufacturing, Inc. is a privately held, engineering-driven contract manufacturer specializing in the design and manufacture of highly complex electronic and RF circuit cards and assemblies. The company has locations in Baltimore, MD., Fredericksburg, VA and Richardson, TX., and maintains several key certifications, including ISO 9001:2008, ITAR (US State Dept.), AS9100 (aerospace), and ISO 13485 (medical). In addition, Zentech is a certified IPC Trusted Source supplier for Class 3 mission-critical electronics, is IPC-1791 Trusted Assembler certified and IPC J-STD-001 Space Addendum QML certified.