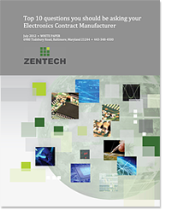 Selecting and managing an Electronics Manufacturing Service (EMS) provider can be as stressful as it is risky. With literally hundreds of options in the US and abroad, the decision is all too often limited just to price. And while price is always important, there are other areas that can impact total cost of ownership (TCO) and add unnecessary risk to the program and organization if not properly considered. Ten of these areas are explored in our free guide the "Top 10 questions you should be asking your Electronics Contract Manufacturer"
Did you know that just because you receive a tested and inspected PCB Assembly or Product it may not be reliable
Did you know that your Electronics Contract Manufacturer could be damaging your product, impairing reliability and customer goodwill, and you may not know it?
Do you know the ways EMS providers hide information that can cost you money
If you choose the wrong Electronics Manufacturer, the best-case is that your organization may lose money, and customer goodwill -- and you could be out of a job. At worst, the wrong CM can put your organization out of business.
Here is an excerpt from the guide:
Question 9. How Strong is their Inventory Management Process?
Having the right material at the right place at the right time is critical to the success of your program. Without the effective use of ERP, experienced materials professionals and world-class processes the odds of success are against you. One of the basic tenets of project management is that if you don't start on time you won't finish on time; does your CM have the right tools and process to ensure it will start on time?
Most electronic components have minimum package sizes, i.e., reels, trays or factory minimums. How does your CM manage and price this inventory during the turnkey quoting process or during your program? Are they willing to hold this excess (not charge up front) and hold it until your next build (less expensive), do they amortize it during the quote process and do they give you the option?
What controls do they have in place to be sure your PCB assembly is manufactured with exactly the manufacturers you specified on your Bill of Materials? Your CM should have a robust configuration management process controlling revisions of all your parts including only the approved manufacturers for you specific component part.
How does your CM manage its vendors? Do they actually visit the board fabricators they use or are they just quoting for lowest cost? Are they inspecting at receiving inspection to an IPC or other standard or are they just checking a packing slip? Does you CM have a counterfeit mitigation program that controls if, when and how they deal with brokers? Counterfeiting and re-labeling of parts is an issue across all industries and has huge implications on product reliability.
And most importantly, a CM should be your partner in solving problems not creating problems. In general, on every program, there will always be selected components that aren't found on the first, second or third try – Is your CM doing their part in managing these issues?