Suddenly, "made in the USA" has real meaning again. In fact, you need look no further than Baltimore-based Zentech Manufacturing to understand just how much of an advantage this can be. Zentech specializes in Printed Circuit Board (PCB) manufacturing assembly for a variety of clients in sectors as varied as medical diagnostics, telecommunications and defense, but the expertise of this burgeoning services company goes much deeper. Zentech has built its success on collaboration and efficiency in every phase of the design and assembly manufacturing process, and that offers the potential to drastically improve your products and the way they get to market. Zentech can shepherd your project all the way from concept stage to shipping, literally building innovation and cost savings into every step. It's the kind of integrated, can-do approach that once defined American manufacturing, and companies all over are taking notice.
Re-shoring is here
Zentech is on the forefront of an emerging trend known as re-shoring. For more than two decades, U.S. manufacturing activity waned, driven by a combination of factors that included
cheap overseas labor and soft trade policies that encouraged companies to move manufacturing operations offshore. That dynamic is changing now, with overseas labor and shipping costs rapidly increasing just as the U.S. adopts stiffer trade policies. Other factors are at work too. Inventive collaboration has become extremely important to the successful design and build of complex products, and that becomes more difficult when the manufacturing process is located overseas. Finally, there's the matter of protecting intellectual property. Companies that create innovative products can't afford to have proprietary designs and processes fall into the hands of competitors, something all too common in overseas manufacturing environments. In truth, there are many good reasons to create and manufacture your next technology product in the good old USA, as long as that luxury remains economical enough to be competitive. Coincidentally, that's where Zentech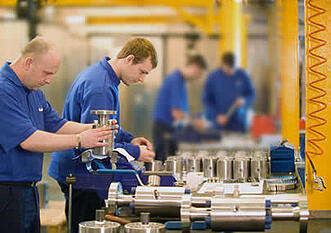 really shines.
Smart, streamlined process contains costs from design through shipping
One of the primary ways Zentech offers cost efficiency to customers is by creating a high reliability product within an extremely efficient process. Zentech is ISO9001:2008 and ITAR Registered, and employs highly effective quality control within each stage of the manufacturing assembly process. This leads to fewer product failures, greater customer satisfaction and reduced overall cost for you. Zentech also provides another rather significant advantage: the opportunity to collaborate with top shelf designers and engineers to refine the design and function of your product. Zentech can even help to make your products RoHs compliant. The net effect is an extremely complete process that includes as much or as little as you require in all these areas:
Review of your product requirements

Systems design

Circuit Design

Development of Algorithms

Firmware creation

Strategies for testing

Creation and management of documentation


Mechanical designs

Becoming RoHs compliant

Life sustaining engineering

Product fulfillment, including drop ship and warranty fulfillment
Reducing parts means reducing costs
Perhaps the biggest opportunity for cost savings lies in the enhancement of the engineering design of electronic components. Zentech can recommend components within your design that will benefit from parts reduction, beginning with PCB layout and construction. Often, a more efficient design emerges, significantly reducing final manufacturing cost and improving the functionality of the product. For many Zentech customers, this expertise alone provides reason to keep both design and manufacturing assembly on American soil.
Where will you take your next product design?
Inspiration and technological innovation go hand in hand, and the new products that will find success contain both. Zentech is the kind of design and manufacturing services partner that can help to turn your new idea into a reliable, highly competitive product, and that's a real advantage. If you're ready to have a look at the new American manufacturing, have a look at Zentech.