Reliability Issues With RF Circuits Influenced
By Design And Manufacturing Process
RF circuit design is inherently more complex than any other type of circuit design. There are numerous issues that must be well understood by your contract manufacturer or the potential for failure is greatly increased.
Download our new White Paper outlining potential major reliability and performance issues that can be influenced by the design and manufacturing processes.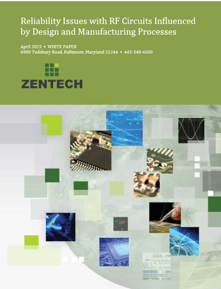 This White Paper will provide guidance for:
RF PCB layout and design


RF PCB materials and fabrication techniques


Soldering and assembly of nonstandard components in the manufacturing process
Please complete the brief form to the right to download
"Reliability Issues with RF Circuits Influenced by Design and Manufacturing Processes"
and improve your RF product performance.