If your business is like many others, you may have taken a bit of a financial hit throughout the course of the past several years. It's no secret that the economy has been struggling which is why contract manufacturing services have become so popular. These types of services allow companies like your own to contract with a third-party manufacturer to design and/or produce goods and services for you.
Although electronic contract manufacturing services are available in a number of industries (ie: food, pharmaceutical, computer development, etc.) it is the high demand for electronic products in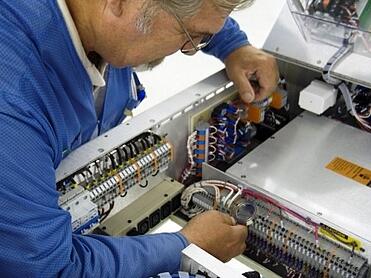 the defense, industrial, medical, and consumer arenas that has created such a surge in the need for Electronic Manufacturing Services (EMS). But why would you trust another company to create your complex electronic products? Here's a look at a few of the many ways in which electronic manufacturing services can decrease your budget and increase your bottom line.
Get It Done Right... The First Time
When you need to design and build electronics, you have two options: you can either complete the project in-house, or you can outsource to a contract manufacturer. Although the idea of crafting your own products within your company may seem like the most appealing prospect, it's not always the most pragmatic. If your corporation needs to produce mass quantities of complex electronics, it's very easy for mistakes to be made which could hinder customer relationships or give your electronics a bad name.
Often, your best bet is to provide the specs to highly qualified professional manufacturing services and allow them to do the heavy lifting. Before handing off your project to an EMS, however, it's prudent to do a little investigative work. Ask for customer testimonials and find out what the company's methods are. Some low-cost electronic manufacturing solutions use counterfeit parts that could destroy your reputation. Taking the time to dig up the dirt on your manufacturing service now will pay you back in quality later.
Time is money, and when your staff are required to spend days designing your product, creating the specs, manufacturing the electronic equipment, testing it, etc., you might be surprised to find how quickly the costs add up. Why not eliminate all of these steps and let an expert EMS company take care of it for you? Our team has been in the business of perfecting electronics since 1998 and are able to deliver precise products in a much smaller window of time and with a fraction of the hassle. The initial investment in working with electronic manufacturing services will pay you back tenfold as you save money on paying for an in-house team to work on the product.
Stop Paying For Equipment
In order to create high-quality electronics in-house, your company must stay ahead of the curve will all of the most state-of-the art equipment and design/manufacture technologies. And because technology is always evolving, you could find yourself continuously upgrading your equipment and ultimately shelling out a lot of money. By working with an electronic manufacturing service, you will cut these costs altogether as they will be responsible for keeping their equipment up-to-date.

Going hand-in-hand with the previous point is the amount of space that your business can save by not being required to house design, production, or other electronics manufacturing equipment. This can result in your ability to either use the extra space for more pertinent tasks, or to move to a smaller facility that will cost less money on both property expenses and maintenance.

Last, but certainly not least, buy working with American-based electronic manufacturing services like our own, you won't be taking any money out of the U.S. market. In fact, you'll be spreading the wealth and doing your part to boost the American economy.

Are you ready to find out how electronic manufacturing services can improve cost-effectiveness in your product production?