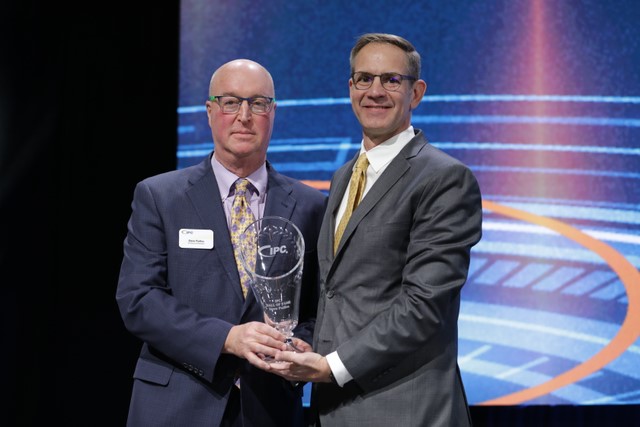 I-Connect007's Patty Goldman interviews Steve Pudles on his recent induction into the IPC Hall of Fame in the Show and Tell 2020 Magazine.
With over 32 years spent working with IPC, Steve Pudles was elected to the IPC's Hall of Fame this year. Patty Goldman spoke with Steve about how he first became involved as well as his time in the organization, including his work with the EMS Management Council.
Patty Goldman: Steve, congratulations on your election into IPC's Hall of Fame. It's a big deal. Let's start with a little bit of background about you, how you got involved in the industry, and how you got involved at IPC.
Steve Pudles: I started my career working for two U.S. defense contractors, and in 1985, I made a move to a company in New Jersey that built products for other companies. There was no industry at the time; it was just a business. They had to absorb some of the fixed costs from their other declining businesses. That was my entry into the EMS industry, even though we didn't create and enable the industry until much later. I went to my first IPC meeting in 1987. I received a call from Tony Hilvers, who, at that time, was the VP of Industry Programs for IPC. He told me about this meeting that was going to take place with a bunch of companies that were in this industry and asked me if I'd be interested in attending, so I went. As they say, the rest is history.
Then, the EMS Management Council started meeting twice a year. Some of the meetings were very moderately attended. There were companies from all over the country, but some of those companies don't exist anymore, and others have been acquired. It always tended to be small or medium EMS companies.
At one of those meetings, two people, who had been around since the beginning, had a four-hour debate about whether the industry was going to be the electronics manufacturing services industry or the electronic manufacturing services industry. I don't remember who won and who lost, but the name for the industry today grew out of that meeting. That's how I became involved in the group.
Goldman: How long have you been with Zentech?
Pudles: I have been with Zentech for about eight months. I started there after being in retirement for about five and a half years. In addition to some things I did on a consulting basis while "retired," one of the activities I maintained was my position on the IPC board the entire time.