If you're shopping around for a contract manufacturing company, you're well aware of the fact that you have many options to choose from. Unfortunately, though, not all manufacturing services are equal. In order for your business to truly thrive, you must take the time to find a partner company that is passionate about providing quality services and products. Here's a closer look at what it is that you should expect from your manufacturing agency.



Open Communication and Collaboration

The best manufacturing services will always keep the lines of communication open between themselves and their clients. It should never be difficult for you to get in touch with your contract manufacturer to set up a a consultation, to review design schematics, to discuss any issues or deadlines, or to find out the status of the production of an order of electronics devices. On the other side of things, your manufacturing service should also contact you with regular updates, or to talk about any problems that have been encountered or changes that have been made to improve the design of your product. Regardless of whether you are leaving product design completely in the hands of your contract manufacturer, or if you're looking to collaborate with experts on ways to improve your schematics, no action should ever be taken without your approval.

Excellent Parts

Your electronics devices cannot function as they should unless the parts used to construct them are top notch. Unfortunately, this is the area where many manufacturing services fall short. Often, electronics companies look overseas to outsource the manufacture of their products because the services rendered are typically cheaper. But when making decisions like these, you must remember that you get what you pay for. Many offshore manufacturing services are able to lower their price points because they are cutting corners and utilizing bootlegged parts. This can create serious problems with the functionality of your devices and can sometimes even result in safety issues. Ultimately, your customers will be dissatisfied with their products, leaving you with the costly burden of replacing their devices or even going back to the drawing board as you are required to recall the product altogether. In the end, you will have lost money and your reputation will have been severely damaged.

Choosing to work with an American company with a solid reputation, on the other hand, will ensure that the parts used in the production of your devices will be of the highest quality possible, so that you can be proud of the products that you put on the shelves for your consumers.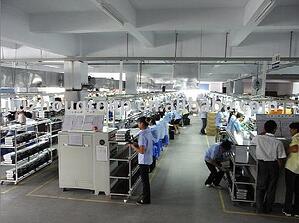 Technologically Advanced Machinery

When choosing between electronics manufacturing services, take a look at the types of technology and machinery that they utilize during the production of complex devices. High-tech facilities will deliver the best products. Robotic arms, for example, are essential to manipulating very small parts in a way that is efficient and precise. Be sure that the product assembly process makes use of the latest and greatest equipment for quickly generating your product without detracting from accuracy and operability.

Quality Control

Professional manufacturing services will never allow your product to go to consumers without being carefully tested for functionality and safety. Be sure that your contract manufacturer has a proven process for checking over assembled devices to ensure that your customers will be fully satisfied with your electronics devices. In electronics manufacturing, there is no "good enough". In order for you to remain competitive and successful, your products must always be the best, and your manufacturer should understand this principle.

By insisting on these criteria, you'll find the best manufacturing services possible.
Are you ready to get started?



Image #1 sourced from (iec-electronics.com)
Image #2 sourced from (qrbiz.com)