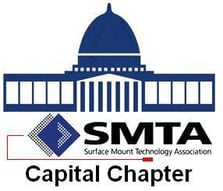 The SMTA Capital Chapter is pleased to announce that Gerry Partida of Summit Interconnect, will present "Density, Advanced Materials and Cost Drivers Associated with Advanced Circuit Design, Fabrication and Assembly" at the upcoming Capital Expo and Tech Forum at Johns Hopkins University / Applied Physics Lab, Kossiakoff Center, on Thursday, August 24th.
Printed circuit boards are the platform for all surface mount technology processes and electronics manufacturing. There have been tremendous advancements in high speed and microwave materials, via structures and processing techniques. The material constructions and attributes provide unique opportunities for designers and unique challenges for bare printed circuit board fabricators. Mr. Partida will explore the various material options and their trade-offs, provide insight into the manufacture of multiple lamination cycle requirements, review stack-up and routing considerations, managing registration requirements, micro drilling and copper wrap plating processes. This will be an invaluable session to understand materials considerations, cost trade-offs and leading-edge processing technologies for the design, manufacture and assembly of high-technology printed circuit boards.
The SMTA Capital Expo and Tech Forum will be held at Johns Hopkins University / Applied Physics Lab, Kossiakoff Center, 11100 Johns Hopkins Road, Laurel, MD 20723. Registration opens at 8:00 AM and includes a complimentary lunch on the show floor. Exhibits are open from 9:00 AM until 3:00 PM and the first technical presentation will start at 9:30 AM.
About Surface Mount Technology Association (SMTA)
The SMTA membership is an international network of professionals who build skills, share practical experience and develop solutions in electronic assembly technologies, including microsystems, emerging technologies, and related business operations. For more information or to join, please visit www.smta.org.
About Zentech: Zentech Manufacturing, Inc. is a privately held, engineering-driven contract manufacturer specializing in the design and manufacture of highly-complex electronic and RF circuit cards and assemblies. The company is headquartered in its purpose-built facility located in Baltimore, MD and maintains several key certifications, including ISO 9001:2008, ITAR (US State Dept.), AS9100 (aerospace), and ISO 13485 (medical). In addition, Zentech is a certified IPC Trusted Source supplier for Class 3 mission-critical electronics, and the company is IPC J-STD-001 Space Addendum QML certified.