The Trump administration is praising IPC – Association Connecting Electronics Industries® and several of its member companies for their efforts to expand the skilled workforce.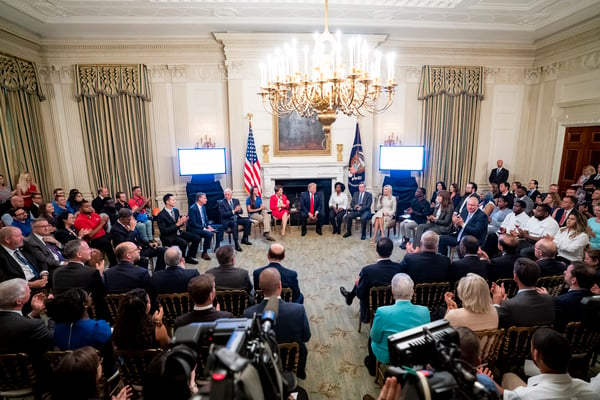 On July 25, an IPC group took part in a White House event marking the first anniversary of President Trump's Executive Order to develop a national strategy to expand the skilled workforce. The event took stock of the progress made under that executive order and the related Pledge to America's Workers, which called on private sector companies to step up their workforce upskilling efforts.
IPC responded to the President's challenge by reviewing its education programs and seeking ways to grow and innovate. As a result, IPC last October joined in the pledge and made a commitment to create 1 million new skilled workforce opportunities over five years. Since then, IPC has made unprecedented, multi-million-dollar investments in its already-extensive educational programs, including trainings and valuable certifications for adult workers; new university chapters and electronics courses; new curricula and outreach aimed at students in middle and high school; and establishing the IPC Education Foundation, which prepares students for rewarding careers by supplying learning opportunities focused on electronics manufacturing and improving the perception of manufacturing as a stable and well-paid sector.
In recognition of the industry's efforts, employees and executives from four IPC member companies attended Thursday's White House event: Calumet Electronics of Calumet, Mich.; STI Electronics of Madison, Ala.; TTM Technologies of Santa Ana, Cal.; and Zentech Manufacturing of Baltimore, Md.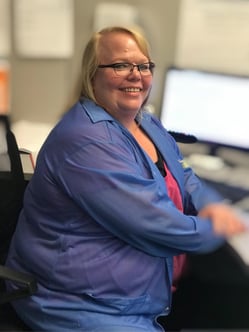 Laura Burnett, a Zentech employee, attended the workforce event and has been with Zentech for 15 years, most recently in her role as a Program Manager. Based on her hard work, dedication and training under the guidance of Clint Fleming, VP of Operations, Laura has progressed through the organization to her current role. Prior roles have included Solder and Assembly Specialist, Stock Room Lead, Production Planner, Junior Buyer and Material Quoting Specialist.
In the last year, Zentech has added 3 new positions to the Program Management department, and Laura has taken on the additional responsibility as a trainer for these positions. Recently, Laura has been taking continuing education credits to further her knowledge in Program Management. This education, along with her previous past experience with Zentech, means she is a valuable asset the the Zentech team and plays an integral role in ensuring her customers' success.
About Zentech:
Zentech Manufacturing, Inc. is a privately held, engineering-driven contract manufacturer specializing in the design and manufacture of highly-complex electronic and RF circuit cards and assemblies. The company is headquartered in its purpose-built facility located in Baltimore, MD, with additional operations in Fredericksburg, VA. Zentech maintains several key certifications, including ISO 9001:2015, ITAR (US State Dept.), AS9100 (aerospace) and ISO 13485 (medical). In addition, Zentech is a certified IPC 610 Trusted Source supplier for Class 3 mission-critical electronics, and the company is IPC J-STD-001 Space Addendum QML certified and is now NIST 800-171 compliant and IPC 1791 certified. Zentech Fredericksburg operations is also a Mid-Atlantic leader in the fabrication of wire harnesses and over-molded cables for harsh environments.