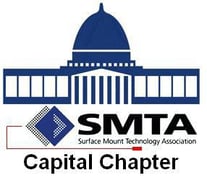 The SMTA Capital Chapter is pleased to announce that Phil Zarrow of
ITM Consulting
, will present "The 'Deadly Sins' of SMT Assembly" at the upcoming Capital Expo and Tech Forum at Johns Hopkins University / Applied Physics Lab, Kossiakoff Center, on Thursday, August 24th.
Everyone has heard of the "7 Deadly Sins" that will, supposedly, lead one to Hell. There are also the "Deadly Sins" of SMT - there are more than just 7 – and they can make your assembly process a "hell on earth".
During the course of ITM's assembly process audits and troubleshooting work, we tend to see trends in the types of errors and problems. In other words, a lot of people are making the same mistakes. The resulting process problems wreak havoc with an impact on assembly yields ranging from 5 to 20%. In addition to this direct cost, there is also additional financial impact with regard to time spent reworking and repairing, the on corrective action by QC, Engineering and Management, and, of course, "do-over".
This presentation identifies the "deadly sins" of SMT assembly, both for Pb-free and "leaded" processes. Besides the symptoms and consequences of each type of error, root-cause, rectification and prevention techniques will be presented. Best Practices will be discussed for each of the key process steps. The workshop will, thus, provide the participant with an understanding of how to identify and correct the most common SMT assembly problems. It will include identification of vendor and source problems including components and materials as well as design related problems.
The SMTA Capital Expo and Tech Forum will be held at Johns Hopkins University / Applied Physics Lab, Kossiakoff Center, 11100 Johns Hopkins Road, Laurel, MD 20723. Registration opens at 8:00 AM and includes a complimentary lunch on the show floor. Exhibits are open from 9:00 AM until 3:00 PM and the first technical presentation will start at 9:30 AM.
About Surface Mount Technology Association (SMTA)
The SMTA membership is an international network of professionals who build skills, share practical experience and develop solutions in electronic assembly technologies, including microsystems, emerging technologies, and related business operations. For more information or to join, please visit www.smta.org.
About Zentech: Zentech Manufacturing, Inc. is a privately held, engineering-driven contract manufacturer specializing in the design and manufacture of highly-complex electronic and RF circuit cards and assemblies. The company is headquartered in its purpose-built facility located in Baltimore, MD and maintains several key certifications, including ISO 9001:2008, ITAR (US State Dept.), AS9100 (aerospace), and ISO 13485 (medical). In addition, Zentech is a certified IPC Trusted Source supplier for Class 3 mission-critical electronics, and the company is IPC J-STD-001 Space Addendum QML certified.