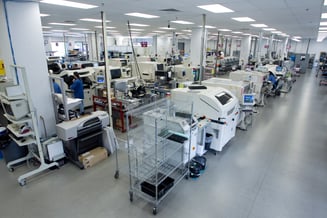 Exceptional program management is the key to a successful relationship between customer and Contract Manufacturer.
Zentech is qualified to ensure sustained high-quality program performance due to our experience and knowledge of planning, change management, quality management, staffing, and reporting requirements. We have an exceptional track record of applying recognized best practices that exceed our clients' expectations.
Zentech's approach to program management is guided by our established project management process, as well as the PMI and PMBOK disciplines. The knowledge, skills, and abilities of our management team enable us to successfully oversee and track the technical performance of each program activity, including cost and schedule, in order to avoid delays and quickly resolve issues.
Zentech's standard practice is to develop a WBS (Work Breakdown Structure) that captures customer task order requirements to include planning and administering project details, resource allocation and loading, task-level duration estimates, task relationships (predecessor, successor), and critical path identification and management throughout the project lifecycle. The WBS is updated weekly and more frequently as needed through the life of the contract.
Zentech then works closely with customer stakeholders to achieve effective cost and schedule control through collaboration on best practice tools to measure progress against recommendations and identify results of changes to projects and processes in performance. We also utilize our PMBOK processes to create a Task Order Management Plan (TOMP) that addresses cost, schedule, risk, communication, acquisition, resource, scope, and performance management activities. Successful management includes being prepared for technology upgrades and budget reallocations or constraints.
Zentech continues to maintain a good working interface with our customers throughout the period of performance. Our processes allow for direct decision making and optimized team assignments, communication, performance monitoring, and conflict resolution. Zentech has always established clear lines of authority and communication and our PM (Program Manager) serves as the point of contact for establishing professional relationships and providing specific deliverables. The PM will be responsible for submitting periodic reports to the designated customer POCs.
Contact Zentech today to discuss how we can make your programs a long term success.!
Zentech Manufacturing, Inc. is a privately held, engineering-driven contract manufacturer specializing in the design and manufacture of highly-complex electronic and RF circuit cards and assemblies. The company is headquartered in its purpose-built facility located in Baltimore, MD, with additional operations in Fredericksburg, VA. Zentech maintains several key certifications, including ISO 9001:2015, ITAR (US State Dept.), AS9100 (aerospace) and ISO 13485 (medical). In addition, Zentech is a certified IPC 610 Trusted Source supplier for Class 3 mission-critical electronics, and the company is IPC J-STD-001 Space Addendum QML certified and is now NIST 800-171 compliant and IPC 1791 certified. Zentech Fredericksburg operations is also a Mid-Atlantic leader in the fabrication of wire harnesses and over-molded cables for harsh environments.