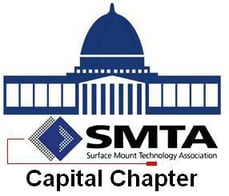 The SMTA Capital Chapter is pleased to announce that it will feature a live demo of the Essemtec Fox pick-and-place system at the upcoming expo on Thursday, August 24th.
The Essemtec Fox can have up to 180 feeder lanes, needs only 1sqm of floor space and can accept PCBs of up to 406 x 305 mm. It is expandable in any direction. The Fox can drive up to 180 feeder lanes, illustrating its dedication to high-mix production. Due to its small footprint and reasonable weight, the machine is ideal for use in limited space production areas even those located on upper floors.
The SMTA Capital Expo and Tech Forum will be held at Johns Hopkins University / Applied Physics Lab, Kossiakoff Center, 11100 Johns Hopkins Road, Laurel, MD 20723. Registration opens at 8:00 AM and includes a complimentary lunch on the show floor. Exhibits are open from 9:00 AM until 3:00 PM and the first technical presentation will start at 9:30 AM.
About Surface Mount Technology Association (SMTA)
The SMTA membership is an international network of professionals who build skills, share practical experience and develop solutions in electronic assembly technologies, including microsystems, emerging technologies, and related business operations. For more information or to join, please visit
www.smta.org
.
About Zentech
: Zentech Manufacturing, Inc. is a privately held,

engineering-driven

contract manufacturer specializing in the design and manufacture of highly-complex electronic and RF circuit cards and assemblies. The company is headquartered in its purpose-built facility located in Baltimore, MD and maintains several
key certifications, including ISO 9001:2008, ITAR (US State Dept.), AS9100 (aerospace), and ISO 13485 (medical). In addition, Zentech is a certified IPC Trusted Source supplier for Class 3 mission-critical electronics, and the company is IPC J-STD-001 Space Addendum QML certified.