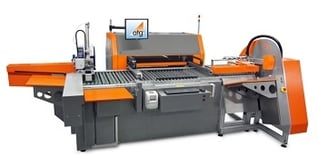 Printed circuit boards (PCBs) are the platform for all surface mount technology processes and electronics manufacturing. Ensuring that all bare printed circuit boards have been tested by the PCB manufacturer is critically important and ensures their electrical integrity prior to the assembly of components.
Summit Interconnect has installed an atg A7a, an eight-head, double-sided, high-speed auto-load/unload system that provides true "lights-out" operation, at its Orange, California facility.
"The atg A7a will be our highest-speed tester yet, and with the auto-load/unload feature, it will significantly improve productivity on large jobs," said Summit Orange VP and General Manager Jack Evans.
The atg A7a auto-load/unload testers utilize eight flying probe test heads, multiple optical recognition systems, and a wide variety of advanced, high-speed electrical test measurement techniques to electrically test all types of PCBs for continuity and isolation. Board sizes of 24" x 21" or larger with small pad/fine-pitch technology can be tested quickly and easily. Special options, such as, 4-wire Kelvin tests, hi-pot test, latent defect test, and others can be provided.
About Zentech: Zentech Manufacturing, Inc. is a privately held, engineering-driven contract manufacturer specializing in the design and manufacture of highly-complex electronic and RF circuit cards and assemblies. The company is headquartered in its purpose-built facility located in Baltimore, MD and maintains several
key certifications, including ISO 9001:2008, ITAR (US State Dept.), AS9100 (aerospace), and ISO 13485 (medical). In addition, Zentech is a certified IPC Trusted Source supplier for Class 3 mission-critical electronics, and the company is IPC J-STD-001 Space Addendum QML certified.