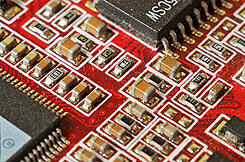 A recent blog post from DfR Solutions outlines the significance of design for reliability in the electronics industry. Sherlock Automated Design Analysis, a software program mentioned in the article, is a program Zentech has had great success in utilizing.

Emerging technologies are making the electronics industry even more competitive, elevating the importance manufacturers place on product quality, reliability and speed to market.
However, addressing critical factors only when failures and delays arise is not efficient. Instead, implementing comprehensive design reviews during product development can help save your company time, effort and money. The method of choice? Design for Reliability.
WHY DESIGN FOR RELIABILITY?
Compared to traditional prototype testing, Design for Reliability is an efficient process. It can be used during the product design phase before physical prototyping occurs, meaning you can determine product reliability and quality at a point in the process when time and monetary investment is at a minimum. This expediency allows you to bring products to market faster than the competition — translating to larger sustained market share without eroding profitability.
THE ROLE OF PHYSICS OF FAILURE (POF)
Key to success in the Design for Reliability approach includes the application of Physics of Failure (PoF), a technique used to predict reliability and product performance. Instead of taking a traditional statistical approach to failure, PoF provides a more thorough understanding. Degradation algorithms are applied that describe how physical, chemical, mechanical, thermal or electrical mechanisms evolve over time and eventually induce failure. It's a total learning approach rather than identifying a one-time problem.
Armed with this information, electronics manufacturers can effectively determine long-term product quality, reliability and speed to market without wasteful and time consuming physical re-testing.
THE SHERLOCK AUTOMATED DESIGN ANALYSIS™ SOFTWARE DIFFERENCE
Bolstering the insights gained through the PoF approach with software specifically created to analyze reliability gives companies within the electronics industry a powerful tool for streamlining new product development.
Sherlock Automated Design Analysis™ software makes the Design for Reliability process more robust by simulating and simplifying a number of tests including:
Temperature cycling

Plated Through Hole Fatigue

Vibration and shock

Conductive Anodic Filament (CAF)
But simulation alone is only part of the process. Sherlock identifies root causes of failure so corrective action can be taken immediately, and data can be compiled and easily accessed for future projects. Every recommendation is documented and broken down into actionable next steps, which is a boon for leveraging Design for Reliability practices.
Implementing Design for Reliability practices during product design is the best way to determine reliability, reduce costs associated with product quality, speed time to market, garner more sales and secure electronics industry leadership.