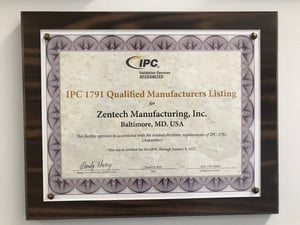 Zentech is pleased to announce that it has earned
IPC-1791 Qualified Manufacturers Listing and is designatedas a Trusted Assembler.
As detailed in the recent iConnect007 column by John Vaughan of Zentech, The Fourth Pillar of Defense Acquisition: Cybersecurity, IPC-1791 is a new certification program created by IPC in response to several DoD initiatives, including NIST 800-171 and DFARS requirements for EMS companies supplying the DoD.
IPC-1791 outlines requirements, policies and procedures for printed board design, fabrication and assembly organizations and/or companies to become trusted sources for markets requiring high levels of confidence in the integrity of delivered products. Specific requirements
underpinning IPC-1791 include AS9100D certification, NIST 800-171 compliance, and other quality, supply chain risk management (SCRM), security and chain of custody (ChoC) protocols.
Zentech provides complex electronics products to the defense sector. Given the many DoD initiatives in and around cybersecurity, Zentech recognized that it needed to immediately heighten awareness, deploy resources and proactively address cybersecurity to continue support of the DoD and their prime contractors.
To that end, Zentech has invested significantly over the past two years to ensure
NIST 800-171 and DFARS compliance and committed to the IPC-1791 certification.
Zentech is one of only three (3) electronics manufacturing service (EMS) organizations certified to IPC-1791.
Zentech Manufacturing, Inc. is a privately held, engineering-driven contract manufacturer specializing in the design and manufacture of highly-complex electronic and RF circuit cards and assemblies. The company is headquartered in its purpose-built facility located in Baltimore, MD, with additional operations in Fredericksburg, VA. Zentech maintains several key certifications, including ISO 9001:2015, ITAR (US State Dept.), AS9100 (aerospace) and ISO 13485 (medical). In addition, Zentech is a certified IPC 610 Trusted Source supplier for Class 3 mission-critical electronics, and the company is IPC J-STD-001 Space Addendum QML certified and is now NIST 800-171 compliant. Zentech Fredericksburg operations is also a Mid-Atlantic leader in the fabrication of wire harnesses and over-molded cables for harsh environments.