Zentech was recently featured in Military & Aerospace Magazine in the article, Contract Manufacturing: there when you need it, and includes insight from Matt Turpin, Zentech's CEO and President.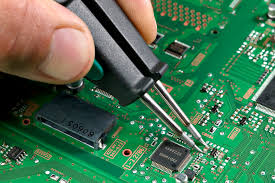 The nation's prime defense contractors often find themselves with too many orders to handle with in-house expertise. That's where electronics contract manufacturing comes in.
With the rapid expansion of high-tech military equipment and componentry, thousands of small specialty manufacturers have come into being, with the initial big boost during with the Space Race of the 1960s.
That decade also marked the start of an acquisition and merger cycle that saw the majority of those
companies — large and small — joined to become 20th Century defense industry giants, such as McDonnell and Douglas, Northrop and Grumman, Lockheed and Martin, as well as those whose names did not
continue, as with the McDonnell Douglas acquisition of Hughes Helicopters about a decade before McDonnell Douglas itself vanished into Boeing.
Throughout that period — and with even greater frequency since the turn of the century — contract manufacturing of military electronics grew into a major industry in its own right. Working primarily for systems integrators, contract manufacturers typically focus on specific areas, such as machining; mechanical and electrical assemblies; power systems; lasers; optics; sensors; robotics; vehicular controls; RF systems; satellite instrumentation; environmental stress screening; G-force testing; and electronic circuit card assembly.
"In the last 10 years, if you look at industry consolidation, that tends to support systems integration, which intuitively should mean more con- tract manufacturing," says Matt Turpin, CEO of contract
manufacturer Zentech Manufacturing Inc. in Windsor Mill, Md. "Given the peaks and troughs of the mil-aero business, any company that tried to stay vertically integrated would probably die. Given the rate of technology change, vertical integration would not, in general, be able to keep up."
The role of industry consolidation
This is the primary reason that big systems integrators like Lockheed Martin, Northrop Grumman, and L-3 rely on best-in-breed contract manufacturing," Turpin says. "The economics don't really support them trying to do it all in-house. If you try to bring in that capability for just your stuff, you can't even out the troughs in mil-aero the way an independent contract manufacturer can."
Contract manufacturing of military electronics is significantly different from the model in use in many other industries, where the contract manufacturer produces complete products under the contractor's brand.
In the military market, the contract manufacturer may produce unique components designed by the contractor or provide its own designs, developments, prototyping and modeling, assemblies, fabrication, tooling, manufacturing, qualification testing, procurement, and logistics services to meet the contractor's requirements.