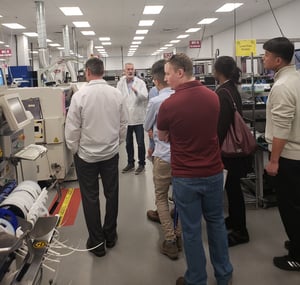 Zentech Manufacturing recently hosted twenty-four graduating seniors from the University of Maryland Baltimore Campus (UMBC) at our Baltimore headquarters location.
The UMBC students are slated to receive engineering degrees from the Integrated Product Development and Manufacturing Program in May. Primary program curriculum includes both DfM (Design for Manufacturing) and DfMA (Design for Manufacturing and Assembly) principles.
Matt Turpin, President and CEO of Zentech and Guy Ramsey (Zentech Manufacturing Engineering Manager) served as hosts for the students. The afternoon included an overview of Zentech's approach to advanced engineering and manufacturing in support of complex electronic technology manufacturing for our military followed by an in-depth facility tour. The follow-up Q&A session was outstanding, and the student's questions thoroughly demonstrated their high interest level (and knowledge) in advanced manufacturing.
The UMBC contingent was led by Dr. Neil Rothman, Graduate Program Director for Professional Programs in Engineering and Jason Stremmel, Graduate Faculty for Integrated Product Development and Manufacturing.
Both Zentech and Matt have a long legacy of support and engagement in STEM related initiatives and higher education within the engineering community. In addition to Zentech, his current outside roles include: Board of Directors for the Regional Manufacturing Institute of Maryland (RMI), the IPC Government Relations Committee and he is an ardent supporter of the IPC Workforce Champions initiative.
Matt commented, "It is always a great day for Zentech - and for me personally - when we get the opportunity to meet such dedicated and intelligent young engineers. They truly are the future of advanced product development and manufacturing in our country and I commend their commitment to mastering a very challenging curriculum."
About Zentech:
Zentech Manufacturing, Inc. is a privately held, engineering-driven contract manufacturer specializing in the design and manufacture of highly-complex electronic and RF circuit cards and assemblies. The company is headquartered in its purpose-built facility located in Baltimore, MD, with additional operations in Fredericksburg, VA. Zentech maintains several key certifications, including ISO 9001:2015, ITAR (US State Dept.), AS9100 (aerospace) and ISO 13485 (medical). In addition, Zentech is a certified IPC 610 Trusted Source supplier for Class 3 mission-critical electronics, and the company is IPC J-STD-001 Space Addendum QML certified and is now NIST 800-171 compliant and IPC 1791 certified. Zentech Fredericksburg operations is also a Mid-Atlantic leader in the fabrication of wire harnesses and over-molded cables for harsh environments.