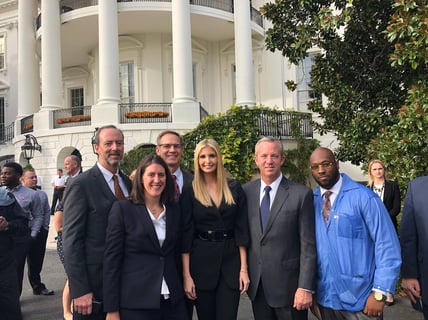 L to R: Joe O'Neil of Green Circuits; Meredith LeBeau of Calumet Electronics; John Mitchell of IPC;
Ivanka Trump; Shane Whiteside of Summit Interconnect; Darryl Graves of Zentech.

On October 31st, Zentech Manufacturing, Inc. proudly participated in the White House Pledge to American's Workers Event at the invitation of IPC CEO Mr. John Mitchell.
President Trump, along with Ivanka Trump and Larry Kudlow, Director of the United States National Economic Council held a discussion on the administration's commitment to job creation and workforce development.
Mr. Mitchell and IPC, through their IPC Workforce Champions initiative, committed to the creation of one million skilled workforce opportunities over the next five years.
Zentech was represented by Mr. Darryl Graves, Conformal Coating and Bonding Supervisor. Mr.Graves is IPC-A-610 certified and has been with Zentech for eight years. As a key supplier of electronic assemblies to the military, the conformal coating process is a very exacting and critical operation at Zentech Conformal coating protects sensitive electronic devices from the extreme environments (dust, sand, salt water) that military electronic systems operate in and assures the systems function properly for our warfighters. (see video tour below). During his tenure at Zentech, he has also been a SMT operator, materials associate, mechanical assembler, conformal coater, and AOI operator.
Mr. Graves commented, "Being a part of the pledge to America's Workers event was an amazing experience. This pledge holds a tremendous value to me because I began my electronics industry career at age nineteen in an entry level position and through both Zentech and IPC training, my suggestions for process improvements and my hard work, I was promoted to a management position. With the Pledge to America's Workers campaign, I hope that like me, many more ambitious Americans will have the opportunity to obtain valuable skills to excel in their careers".
About IPC:
Since 1957,

IPC

— Association Connecting Electronics Industries® has been guiding the electronic interconnection industry through its dramatic changes. A global trade association dedicated to the competitive excellence and financial success of its more than 3,500 member companies, IPC represents all facets of the industry including design, printed board manufacturing, and electronics assembly and test. As a member-driven organization and leading source for industry standards, training, market research and public policy advocacy, IPC supports programs to meet the needs of an estimated $2 trillion global electronics industry.
About Zentech:
Zentech Manufacturing, Inc. is a privately held, engineering-driven contract manufacturer specializing in the design and manufacture of highly-complex electronic and RF circuit cards and assemblies. The company is headquartered in its purpose-built facility located in Baltimore, MD, and in Fredericksburg, VA. Zentech maintains several key certifications, including ISO 9001:2015, ITAR (US State Dept.), AS9100 (aerospace) and ISO 13485 (medical). In addition, Zentech is a certified IPC 610 Trusted Source supplier for Class 3 mission-critical electronics, and the company is IPC J-STD-001 Space Addendum QML certified and is now NIST 800-171 compliant. Zentech Fredericksburg operations is also a Mid-Atlantic leader in the fabrication of wire harnesses and over-molded cables for harsh environments.