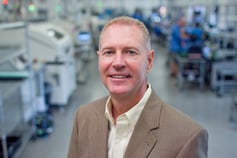 RMI, Regional Manufacturing Institute of Maryland, is a non-profit association representing the interests of manufacturers statewide - providing programs, services and advocacy. More specifically RMI assists in meeting workforce needs, facilitates mentoring programs among manufacturers, and educates policy makers on the significance of manufacturing on Maryland's economy.
RMI recently approved 16 new members to its Board of Directors, including Zentech's President, Matt Turpin. The new board members will ensure that RMI is able to advocate broadly on behalf our manufacturing industry as well as the supporting manufacturing ecosystem to ensure our industry can compete and thrive in Maryland. "We rely on the RMI Board to provide input to our goals to improve the prospects for Maryland manufacturing," said Dr. Michael Galiazzo, President of RMI. "This new group of manufacturing leaders brings extraordinary talent and energy to RMI and will be a key force in helping us address the priorities of the industry," he said. The new Board members represent a cross section of both small and medium-sized manufacturing companies from semiconductors, to consumer products, to injection molding.
"I am honored to be chosen to serve on RMI's Board of Directors and to help represent the interests of Maryland manufacturers," says Turpin.