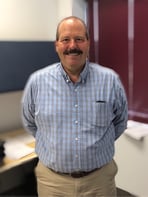 Zentech Manufacturing is pleased to announce that John Karkoski has joined the Zentech Manufacturing, Inc. team as Director, Business Development - MilAero and Space Markets.
John's prior experience includes similar roles over the past twenty-five years with Ducommun, Celestica and Primus Technologies.
His primary responsibility will be leading Zentech's growth initiatives in the Mil-Aero and Space markets and leveraging Zentech's NIST 800-171 compliance position. NIST compliance underscores the Zentech Secure and Trusted processing model for military primes that outsource complex circuit card and unit level builds with sensitive data security requirements.

Zentech is slated for NADCAP certification by December 2018 and was also the first electronics contract manufacturer certified to the IPC J-STD 001 Space Addendum Qualified Manufacturer List (QML).
John Vaughan, Vice President, Sales and Marketing of Zentech stated, "John is widely respected for his expertise in delivering innovation solutions to demanding DoD programs and has deep relationships within the military prime contracting environment that will be a tremendous asset as Zentech continues our rapid growth trajectory. In that many of our customer engagements are at the program level with military primes and direct with the DOD, John's vast experience in this very dynamic sector delivering engineering and programmatic solutions will greatly benefit our customers."
About Zentech: Zentech Manufacturing, Inc. is a privately held, engineering-driven contract manufacturer specializing in the design and manufacture of highly-complex electronic and RF circuit cards and assemblies. The company is headquartered in its purpose-built facility located in Baltimore, MD, and in Fredericksburg, VA, and maintains several key certifications, including ISO 9001:2015, ITAR (US State Dept.), AS9100D (aerospace), and ISO 13485 (medical). In addition, Zentech is a certified IPC Trusted Source supplier for Class 3 mission-critical electronics, and the company is IPC J-STD-001 Space Addendum QML certified and is now NIST 800-171 compliant. Zentech Fredericksburg operations is also a Mid-Atlantic leader in the fabrication of wire harnesses and over-molded cables for harsh environments.