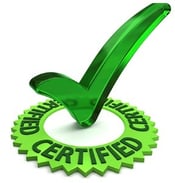 Many electronics contract manufacturers (CM's) are highly certified in their particular market focus areas. Certifications such as AS9100, IPC 610 Class 3, J-STD 001 and ISO 13485 demonstrate the commitment to excellence of a potential contract manufacturer. Certifications provide a level of (objective) accountability that, first and foremost, protects you the customer. Certifications ensure that the contract manufacturer remains compliant with current industry standards, regulations, and best-practices which directly impact the quality and reliability of the products and services that the electronics contract manufacturer provides.
Zentech Certifications:
- AS9100D (Aerospace Specification)
- IPC 610 Class 3 Mission Critical Trusted Source (Qualified Manufacturers Listed) –
Zentech operates two of the eight U.S. certified facilities
- IPC WHMA 620 Certified (Wire Harness and Cable Assemblies)
- IPC J-STD-001 with Space Certification – one of two CM's certified for Space
- ITAR registered
- Joint Certification Program (DD2345) for access to militarily sensitive Technical Data
Packages
- ISO 9001:2015
- ISO 13485:2016 (medical devices)

Inspection Capabilities:
- J-STD-004 Compliant (Solder Paste Technology) + Inline 3D SPI (Solder Paste
Inspection)
- AOI Systems (Automated Optical Inspection)
- 3D Automated X-Ray Inspection – AXI
- Seica Pilot 4D V8 Flying Probe Testing

Compliance
- NIST 800-171 compliant
- AS5553 Counterfeit Mitigation Compliant
Contact Zentech today to discuss your complex electronics builds.