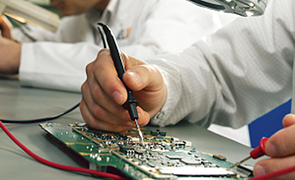 Zentech Manufacturing, Inc. a small business, has provided mission and life critical complex, high-reliability electronics contract manufacturing to the military, their prime contractors, and medical device companies since 1998.
Our experience in the manufacture of sophisticated diagnostic medical devices and military equipment leaves Zentech standing alone in the Mid-Atlantic region as the premier electronics contract manufacturer of advanced electronic systems for mission and life critical requirements.

Zentech is an ISO 13485 certified manufacturing facility and can support your organization with the following:
• CT/MRI Scan Injector Pumps
• Data Acquisition Controller /PDA Interface Mod
• Drug Delivery Systems
• Extravasation Monitors
• Handheld Pulse Oximeters
• Nuclear Medicine Imaging
• Patient Monitoring Systems
• Positive Airway Pressure Device
• Neuromonitoring
• Surgical Video Systems
• Imaging Systems
• Medical Device Contract Manufacturing
• Medication Management Systems
• Glucose Monitoring Devices
• Dialysis Equipment
• Surgical RF Detection Systems
• Diagnostic Devices
• Critical Care Life Support Ventilators
About Zentech: Zentech Manufacturing, Inc. is a privately held, engineering-driven contract manufacturer specializing in the design and manufacture of highly-complex electronic and RF circuit cards and assemblies. The company is headquartered in its purpose-built facility located in Baltimore, MD, and in Fredericksburg, VA, and maintains several key certifications, including ISO 9001:2015, ITAR (US State Dept.), AS9100D (aerospace), and ISO 13485 (medical). In addition, Zentech is a certified IPC Trusted Source supplier for Class 3 mission-critical electronics, and the company is IPC J-STD-001 Space Addendum QML certified and is now NIST 800-171 compliant. Zentech Fredericksburg operations is also a Mid-Atlantic leader in the fabrication of wire harnesses and over-molded cables for harsh environments.