This blog series intends to shatter some "manufacturing myths". Sometimes there is a perception of manufacturing being dirty, dead-end, unskilled, monotonous and boring. The reality is, it's bright, clean, fulfilling, hi-tech, versatile and rewarding!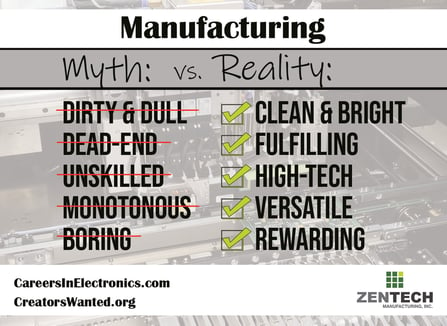 I had the privilege of interviewing some Zentech employees - a way of humanizing the manufacturing industry to demonstrate why you may want to consider a manufacturing career.
Andy, Testing Supervisor, Zentech Bloomington
Stephanie: What is your title here?
Andy: I am the Testing Supervisor.
Stephanie: How long have you been at Zentech?
Andy: I started as a temp in 2010.
Stephanie: What do you like about your job?
Andy: I enjoy coming to work. It's a great feeling to think about where I started [temp] to where I am now [supervisor]. I like the diversity of what we build. It's neat to see it from the start to finish, and what it's actually used for is pretty cool.
Stephanie: It really matters. Manufacturing is the backbone of our infrastructure.
Were you in manufacturing before you came here?
Andy: I went to ITT and got my degree in Computer Electronics Engineering and Electronic Communications Engineering. I actually started here in SMT and then to AOI, to Flying Probe and finally to Conformal Coat. Eventually I ended up in Testing where I am now. That's the great thing about Zentech – you're not stuck in just one area.
Stephanie: It kind of sounds like every day is different, a different challenge.
Andy: Yes. A lot of trouble shooting in testing. I think it's more fun that way.
Stephanie: Did you have a perception of manufacturing before you came here?
Andy: Well, I had always thought of it like an assembly line but when I got here, it felt like I was not in one at all. It's not like an assembly line, it's kind of diverse, not repetitive.

Stephanie: I've noticed that the younger generation may think of it as dirty or monotonous.
Andy: It's definitely cleaner and more controlled than you might think.
Stephanie: Yes. And high tech. Digitized and automated.
Andy: Yes, I think if people came here and realized everything you must learn and do, they would feel differently. Like, wow, there's a lot more to this than I thought.
Stephanie: And that means there's more opportunities and skills to learn. It's not just "building widgets" for 40 years straight.
Andy: Yes. You're not just turning wrenches and putting bolts in things; your job will be very diverse. And Zentech does a lot of cross training, so you get exposed to building something from start to finish, not just seeing your small part in it.
Stephanie: Why do you like being here?
Andy: I enjoy this industry. There are definitely growth opportunities. The diverse products we build are interesting, therefore the challenges are different every day.
If you would like to know more about careers at Zentech, visit our Zentech Careers website.
Additional Resources:
IPC Educational Foundation - Electronics Career Profiles
Creators Wanted - Find manufacturing jobs, career pathways and training programs
About Zentech:
Zentech Manufacturing, an Electronics Manufacturing Service (EMS) small business, is primarily focused on the defense, aerospace, and medical industries, specializing in producing highly complex electronic and electromechanical circuit card assemblies. The company has locations in Baltimore, MD, Richardson, TX, and Bloomington, IL and maintains several key electronics industry certifications. In January 2023, Zentech received the Stan Plzak Corporate Recognition Award from the IPC.