This blog series intends to shatter some "manufacturing myths". Sometimes there is a perception of manufacturing being dirty, dead-end, unskilled, monotonous and boring. The reality is, it's bright, clean, fulfilling, hi-tech, versatile and rewarding!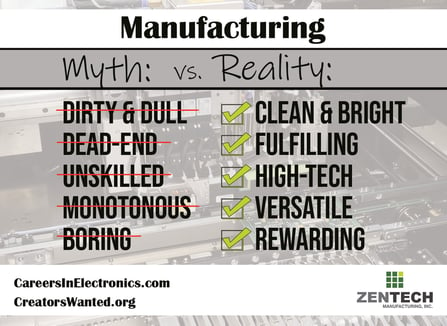 I had the privilege of interviewing some Zentech employees - a way of humanizing the manufacturing industry to demonstrate why you may want to consider a manufacturing career.
Meet Victoria. She recognized that she didn't aspire to sit at a desk and a computer all day, and that she enjoys "solving puzzles". Manufacturing was a great career choice for her because it matched her interests and skill set.
Victoria - Production Lead - Through Hole Department, Zentech Bloomington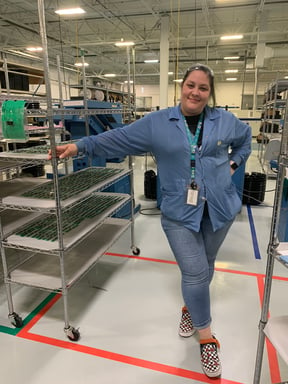 Stephanie: How long have you been at Zentech?
Victoria: Almost 2 years. I started here via a temp agency and after a year they hired me.
Stephanie: Is this your first manufacturing job?
Victoria: No, I've had 2 other manufacturing jobs before this.
Stephanie: What did you start out doing here?
Victoria: I started in the testing department. I learned everything on the job.
Stephanie: And what are you doing now?
Victoria: I did well in the testing department and last year was promoted to Production Lead in the Through Hole department. This is where all the parts are hand placed.
Stephanie: What do you like most about what you're doing?
Victoria: I actually like doing this a lot because I'm very hands on. For me it's like a puzzle. If you're crafty and like puzzles and solving things, this could be a good fit for you. I like putting things together and finding out what things do. And you say to yourself, "Wow, I made that." It's very rewarding. Plus, they treat you like family here.

Stephanie: Did you have a perception of manufacturing before you started?
Victoria: No, I've just always liked to work with my hands. That's just who I am. I could never just sit at a desk and a computer all day. I like to be active and build things. So manufacturing was a great career choice that fits who I am and what I like to do.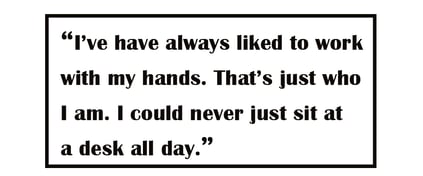 Stephanie: Did you have any schooling before you came here?
Victoria: No, I just saw the hiring sign out front for a Job Fair, and I came in.
Stephanie: That's the other great thing about manufacturing – there's a wide range of skill levels required, so if you want to come in right from high school or a previous job, you can do that.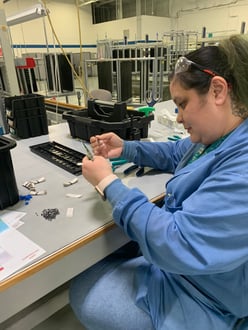 Victoria: Yes, you're right, there's something for everyone here and I enjoy it.
Stephanie: And plus, you started in one area and now you've been promoted to this area.
Victoria: There's room for growth and that's what I like about Zentech and manufacturing as a whole. Christy has always told me that I can take this as far as I want and learn as much as I want to learn. In each department I've been in, I've also done a lot of training for new employees.
Stephanie: And the great thing is, the IPC offers a certification to become an IPC Certified Trainer.
Victoria: Yes, I would love to eventually get that.
Stephanie: And I heard Christy does a lot of cross-training.
Victoria: Yes, I have literally had my foot in almost every area. I've only done a little bit in SMT, and I haven't done any visual inspection, but everywhere else, I've gotten some experience.
I like wearing lots of hats. It really has been helpful to understand what each department does.
Stephanie: So which area do you want to grow into next?
Victoria: I would love to eventually be in a technical position, like hand soldering.
Stephanie: Well, it sounds like with your ambition and work ethic, that you will definitely get there.
Victoria: Thank you, I hope so! I just keep working towards a higher goal.


If you would like to know more about careers at Zentech, visit our Zentech Careers website.
Additional Resources:
IPC Educational Foundation - Electronics Career Profiles
Creators Wanted - Find manufacturing jobs, career pathways and training programs
About Zentech:
Zentech Manufacturing, an Electronics Manufacturing Service (EMS) small business, is primarily focused on the defense, aerospace, and medical industries, specializing in producing highly complex electronic and electromechanical circuit card assemblies. The company has locations in Baltimore, MD, Richardson, TX, and Bloomington, IL and maintains several key electronics industry certifications. In January 2023, Zentech received the Stan Plzak Corporate Recognition Award from the IPC.