This blog series intends to shatter some "manufacturing myths". Sometimes there is a perception of manufacturing being dirty, dead-end, unskilled, monotonous and boring. The reality is, it's bright, clean, fulfilling, hi-tech, versatile and rewarding!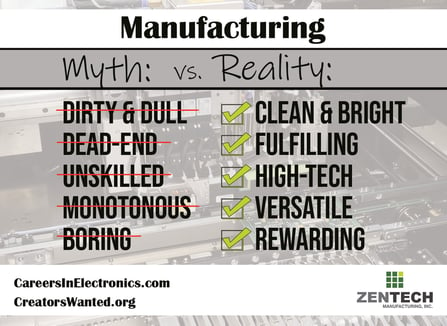 I had the privilege of interviewing some Zentech employees - a way of humanizing the manufacturing industry to demonstrate why you may want to consider a manufacturing career.
Tod - Quality Inspector, Zentech Bloomington
Stephanie: Why did you choose a manufacturing career?
Tod: Well, I think that careers are not always built behind a desk. And I was not the type of person to sit behind a desk. I enjoy working with my hands.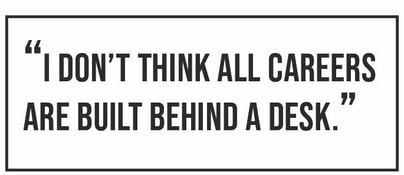 Stephanie: How long have you been at Zentech?
Tod: I've been here for 10 years. The first 3 years were through a temp agency before I was permanently hired.
Stephanie: Were you in manufacturing before Zentech?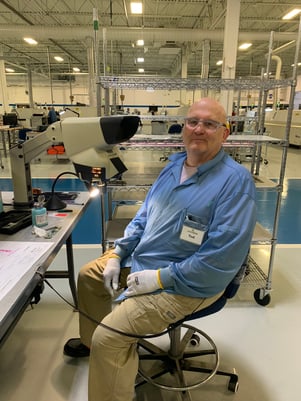 Tod: I was in the printing industry for 30 years. Printing had started drying up because of digital advancements so they closed our plant. I decided I wasn't going to find another job in the printing industry.
So, Zentech was hiring, and I figured I'd give it a try. To some degree, my skills were related to electronics. I inspected printing plates as part of my job and looked for any errors, scratches, dents, missing type, etc. I was used to doing detailed work. I was first hired as an assembly technician and then started working in receiving- inspection. And since I was doing well there, they moved me over to quality to start inspecting boards after they were assembled. And I've been here ever since.
Stephanie: Why do you like it?
Tod: It's clean and well lit! It's a comfortable workspace. My job is not physically demanding. And I enjoy it because I like solving puzzles.
Stephanie: I've heard that a few times.
Tod: It's looking at all the pieces and making sure they fit. It's important that quality products go out the door. A lot of the products we build are very crucial for industry and the boys out in the field and our country. They always have taught us that our work is critical.
Stephanie: Yes – these boards you're looking at now are for the oil industry. And that's certainly important to our way of life.
Tod: Yes, it's a series of boards that go together and with the probes that go down-hole to tell them where the bit is located.
Stephanie: More and more everything today is digitized so there's boards in everything. What we do is the backbone of our infrastructure today.
Do you have any IPC certifications?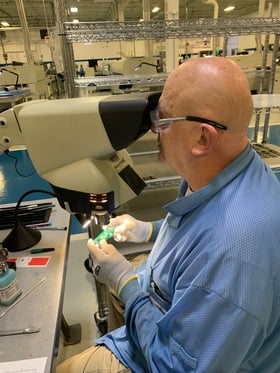 Tod: Yes, I am an IPC 610 certified inspector. That's the 4th time I've renewed that certification here. That's why we have certifications - to make sure we are held accountable to a specific set of standards.
Stephanie: Right. Then it's a level playing field.
Tod: I like my job because it's like Where's Waldo. It's pattern recognition, pattern disturbance. It's a satisfying feeling when I find these patterns that deviate from the standard. It means I've done my job and "solved the puzzle".

Stephanie: Where's Waldo – that's a great analogy.
Tod: You're looking for anything odd that stands out. That's what the IPC is great at. You may find something not quite right, but you have a standard range to measure against.
Stephanie: Thank you Tod for talking with me! Keep up the great work!
If you would like to know more about careers at Zentech, visit our Zentech Careers website.
Additional Resources:
IPC Educational Foundation - Electronics Career Profiles
Creators Wanted - Find manufacturing jobs, career pathways and training programs
About Zentech:
Zentech Manufacturing, an Electronics Manufacturing Service (EMS) small business, is primarily focused on the defense, aerospace, and medical industries, specializing in producing highly complex electronic and electromechanical circuit card assemblies. The company has locations in Baltimore, MD, Richardson, TX, and Bloomington, IL and maintains several key electronics industry certifications. In January 2023, Zentech received the Stan Plzak Corporate Recognition Award from the IPC.