This blog series intends to shatter some "manufacturing myths". Sometimes there is a perception of manufacturing being dirty, dead-end, unskilled, monotonous and boring. The reality is, it's bright, clean, fulfilling, hi-tech, versatile and rewarding!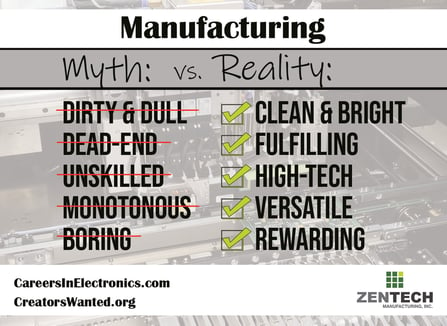 I had the privilege of interviewing some Zentech employees - a way of humanizing the manufacturing industry to demonstrate why you may want to consider a manufacturing career.
Lyndon - Production & Test Manager, Zentech Dallas
Stephanie: How long have you been at Zentech?
Lyndon: I have been here for a year and a half.
Stephanie: Were you in manufacturing before this, or is this new for you?
Lyndon: I am new to manufacturing.
Stephanie: What type of schooling did you have?
Lyndon: I went to school for Electrical Engineering.
Stephanie: What is your title here at Zentech?
Lyndon: I started out as a Test Engineer and have recently been promoted to Production and Test Manager.
Stephanie: Congrats! Have you always wanted to be an Engineer?
Lyndon: When I was little, I wanted to be a lawyer or an engineer.
Stephanie: What school did you go to?
Lyndon: Texas A&M.
Stephanie: I've noticed the younger generation isn't as interested in manufacturing or doesn't realize it's a viable career. What do you think?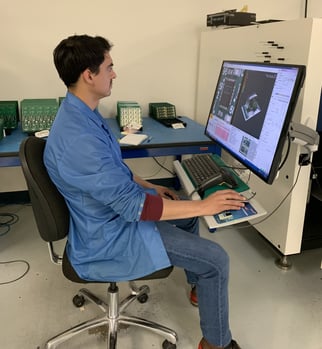 Lyndon: I think they often opt to go to school because they think they can make more money elsewhere rather than manufacturing, but the path to earning more money takes longer.
However, what they may not realize is, in manufacturing, there's more options, without a lot of school. You can immediately get your foot in the door and work your way up.


And manufacturing is fun; building is fun.
Stephanie: So, to the person who may not want to or be able to afford schooling, why would you recommend manufacturing?
Lyndon: You can make decent money right away doing full-time work and you will learn a lot very quickly and actually get hands-on experience instead of just sitting in a classroom. A lot of people gain satisfaction when you can see how a product is built from beginning to end.
Stephanie: If you don't have experience, you start out making more money than perhaps in another industry.
Lyndon: Yes. And you can learn anything here, there's lots of options.
Stephanie: So, you can move around and try out different areas.
Lyndon: Yes. There are definitely ways to make a good living in manufacturing. You just need people with a great attitude, and you can teach them the skills.
Stephanie: I see it as attitude often coming before the talent.

If you would like to know more about careers at Zentech, visit our Zentech Careers website.
Additional Resources:
IPC Educational Foundation - Electronics Career Profiles
Creators Wanted - Find manufacturing jobs, career pathways and training programs
About Zentech:
Zentech Manufacturing, an Electronics Manufacturing Service (EMS) small business, is primarily focused on the defense, aerospace, and medical industries, specializing in producing highly complex electronic and electromechanical circuit card assemblies. The company has locations in Baltimore, MD, Richardson, TX, and Bloomington, IL and maintains several key electronics industry certifications. In January 2023, Zentech received the Stan Plzak Corporate Recognition Award from the IPC.