This blog series intends to shatter some "manufacturing myths". Sometimes there is a perception of manufacturing being dirty, dead-end, unskilled, monotonous and boring. The reality is, it's bright, clean, fulfilling, hi-tech, versatile and rewarding!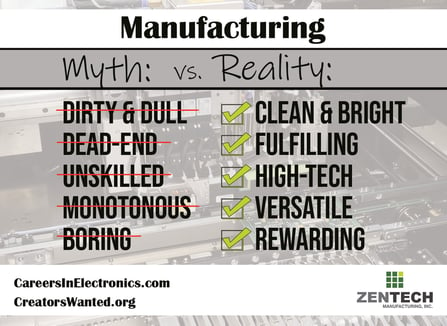 I had the privilege of interviewing some Zentech employees - a way of humanizing the manufacturing industry to demonstrate why you may want to consider a manufacturing career.
Cyndi - Scheduling Manager, Zentech Bloomington
Stephanie: How long have you been working at Zentech?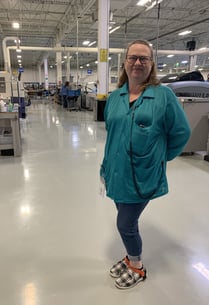 Cyndi: I started 12 years ago as an SMT Operator.
Stephanie: What else have you been doing here?
Cyndi: I became the Lead of SMT and then eventually the supervisor and I was asked to help out with scheduling. Eventually they offered me the scheduling position.
Stephanie: Were you working in manufacturing before?
Cyndi: I was, but the place I worked for closed in 2008. At that point, I went back to school and got a degree to be a paralegal, actually. But I decided I didn't like being behind a desk!
I enjoy manufacturing, I enjoy being able to see what I accomplished at the end of the day, physically making something.
Stephanie: Do you feel like it's pretty versatile?
Cyndi: Yes, I do. It keeps it interesting.
Stephanie: Before getting into manufacturing, did you have a certain perception of it?
Cyndi: My dad worked in manufacturing, and he was my first boss, actually. He used to bring stuff home, like a blueprint or a drawing, and ask me to make the prototype. I learned how to read drawings and make things from scratch.
Stephanie: A lot of the younger generation does not always have their parents encouraging them to get into it, perhaps because they don't realize how versatile it is and how much is available to them.
Cyndi: I think so. I didn't know much about electronics manufacturing when I started. I looked at it with the mentality that I can make things. I don't always have to know the bigger picture and what it does, my job is simply to make it. I believe anyone can learn to read a drawing and operate a machine.
Stephanie: Why have you stayed at Zentech?
Cyndi: Definitely the people. I enjoy fixing problems, making processes more efficient and at the end of the day, having made something.
You can push papers all day but it's not the same thing. Manufacturing is tangible evidence of your productivity. The machine is humming, I'm humming and we're in sync.

Stephanie: Not every career has to be at a desk. Not every kid wants to be behind a desk. This is a way to show them a different path.
Cyndi: Yes, exactly.
Stephanie: Thank you, Cyndi, for your years of service to Zentech!
If you would like to know more about careers at Zentech, visit our Zentech Careers website.
Additional Resources:
IPC Educational Foundation - Electronics Career Profiles
Creators Wanted - Find manufacturing jobs, career pathways and training programs
About Zentech:
Zentech Manufacturing, an Electronics Manufacturing Service (EMS) small business, is primarily focused on the defense, aerospace, and medical industries, specializing in producing highly complex electronic and electromechanical circuit card assemblies. The company has locations in Baltimore, MD, Richardson, TX, and Bloomington, IL and maintains several key electronics industry certifications. In January 2023, Zentech received the Stan Plzak Corporate Recognition Award from the IPC.