This blog series intends to shatter some "manufacturing myths". Sometimes there is a perception of manufacturing being dirty, dead-end, unskilled, monotonous and boring. The reality is, it's bright, clean, fulfilling, hi-tech, versatile and rewarding!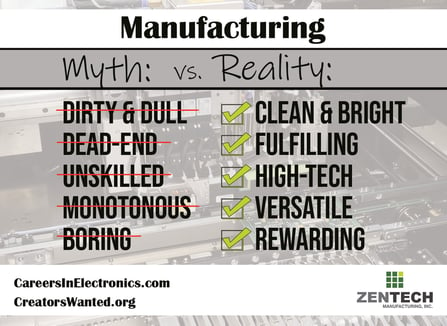 I had the privilege of interviewing some Zentech employees - a way of humanizing the manufacturing industry to demonstrate why you may want to consider a manufacturing career.
Darryl, Production Manager, Zentech Baltimore
Stephanie: How long have you been with Zentech?
Darryl: I've been with Zentech for 13 years.
Stephanie: How did you find us?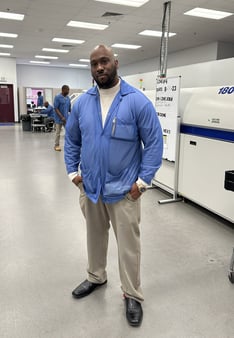 Darryl: I was referred here by someone at my old job where I had been for 5 years, which was also an contract manufacturer.
Stephanie: So did you have specific schooling before coming?
Darryl: No I didn't, though I had been doing wire harnesses and box builds, I had never worked in SMT. When I came on board here, I started off as an SMT Operator.
Stephanie: Then where did you move after that?
Darryl: After that, I moved to conformal coating. With time, I started becoming a stand out operator; everyone was doing 20-25 boards a day, I was doing about 30-35. I had a lot of ideas about how we could increase our output. So I went from an operator to a supervisor. One of the things that I'm most proud of is increasing productivity. We were obligated to produce 560 boards a month for this particular customer, and we revamped our process. Within 3 months we were able to get to 800, then in 2 months 1000, then the next month 1200. We were able to double our output by simply implementing continuous improvement.
Stephanie: What made you want to work in manufacturing?
Darryl: I was always interested, especially because we do a lot of aerospace work, and the things we do to help our warfighters.
Stephanie: So do you enjoy seeing how things work?
All of it. I really enjoy seeing what we do and what platform it goes in. One of our contracts with a particular customer, the board we build is replacing about 600 pounds of old equipment. That is fascinating to me that technology can do that.
Stephanie: Why do you think that young people now don't want to get into manufacturing?
I think because in the 80s, when the industry started slowing down and sending work overseas, it was not a popular industry to get into. I think a lot of people are unaware of how much the industry has grown in the last decade.
Stephanie: They are not aware of all the work that goes on behind the scenes to make their whole way of life conveniently available to them.
Darryl: Within schools now also, trades are not necessarily presented as a great alternative. Right now this is a really stable industry to be in. It's really our responsibility to be ambassadors of our industry and make the younger generation aware of what's available to them.

I have a soft spot for the next generation because I started in the industry when I was 19.
We need to get young people in here as there are seasoned employees here with all this tribal knowledge willing to train them. Pretty soon they are going to retire and leave and we need young people to replace them.
Stephanie: What's your title now?
Darryl: Production Manager
Stephanie: So you progressed through quite a few positions.
I started as an SMT Operator, then SMT Line Lead, then Conformal Coating Operator and then Supervisor to finally where I am now. Through hard work, I was able to get here. One thing I like about Zentech is there is an opportunity for growth here. It's all based on the individual, their attitude, work ethic, and their drive to learn.
Stephanie: So it's not even so much talent that's required vs. attitude.
Yes, everybody has to start somewhere. If you are willing to learn, you can create a career for yourself.
If you would like to know more about careers at Zentech, visit our Zentech Careers website.
Additional Resources:
IPC Educational Foundation - Electronics Career Profiles
Creators Wanted - Find manufacturing jobs, career pathways and training programs
About Zentech:
Zentech Manufacturing, an Electronics Manufacturing Service (EMS) small business, is primarily focused on the defense, aerospace, and medical industries, specializing in producing highly complex electronic and electromechanical circuit card assemblies. The company has locations in Baltimore, MD, Richardson, TX, and Bloomington, IL and maintains several key electronics industry certifications. In January 2023, Zentech received the Stan Plzak Corporate Recognition Award from the IPC.