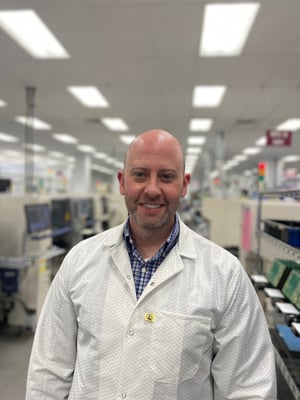 Baltimore MD. January 22, 2020 – Zentech Manufacturing is pleased to announce that Jason Glass has joined the Zentech Manufacturing, Inc. Senior Leadership Team as Chief Financial Officer.
Jason has over twenty years of financial and operational experience in the Tier 1 EMS sector, most recently serving as VP of Finance and Corporate Director of Financial Planning and Analysis (FP&A). Prior to EMS, Jason served in several financial roles with Lockheed Martin and Unisys.
His primary responsibilities will include analysis of acquisition opportunities, integration of acquired businesses, managing the financial planning and analysis for the corporation, strategic planning, annual operating plan creation, forecasting and variance analysis.
Steve Pudles, CEO stated, "Jason's tremendous financial management experience in the Tier1 EMS sector, particularly his vast experience in M&A and integration, will be a true asset as Zentech continues our rapid growth trajectory, both organically and through planned acquisitions. Equally important, Jason has direct employment experience with the military primes and has a thorough understanding of our customer set, value proposition and market. His impact will be immediate, and I am excited to welcome him to the Zentech team."
About Zentech: Zentech Manufacturing, Inc. is a privately held, engineering-driven contract manufacturer specializing in the design and manufacture of highly complex electronic and RF circuit cards and assemblies. The company has locations in Baltimore, MD., Fredericksburg, VA and Richardson, TX., and maintains several key certifications, including ISO 9001:2008, ITAR (US State Dept.), AS9100 (aerospace), and ISO 13485 (medical). In addition, Zentech is a certified IPC Trusted Source supplier for Class 3 mission-critical electronics, is IPC-1791 Trusted Assembler certified and IPC J-STD-001 Space Addendum QML certified.