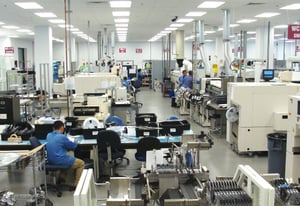 Looking to excel in your career and grow professionally in a thriving business? Zentech was established in Baltimore, Maryland in 1998, and has proven to be one of the premier electronics contract manufacturers in the U.S.





Zentech is rapidly growing and seeking to add the following positions:
Circuit Layout Team Leader with hands-on Mentor Expedition, Allegro or Altium experience preferred.
Zentech offers an excellent benefit package including health /dental insurance and an employer matched 401k program, and we hold the ultimate set of certifications relating to the manufacture of mission-critical printed circuit card assemblies, including: ISO:9001, AS9100 and DD2345. Zentech is an IPC Trusted Source QML and ITAR registered.

Click the links above for more information about each position.

For consideration, submit your resume to sales@zentech.com


About Zentech:

Zentech Manufacturing, Inc. is a privately held, engineering-driven contract manufacturer specializing in the design and manufacture of highly-complex electronic and RF circuit cards and assemblies. The company is headquartered in its purpose-built facility located in Baltimore, MD, and in Fredericksburg, VA, and maintains several key certifications, including ISO 9001:2015, ITAR (US State Dept.) and AS9100 (aerospace). In addition, Zentech is a certified IPC Trusted Source supplier for Class 3 mission-critical electronics, and the company is IPC J-STD-001 Space Addendum QML certified and is now NIST 800-171 compliant. Zentech Fredericksburg operations is also a Mid-Atlantic leader in the fabrication of wire harnesses and over-molded cables for harsh environments.