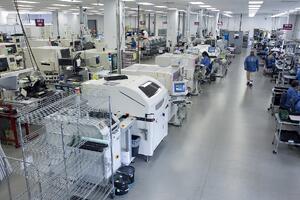 On September 18 2018, the DOD released its first cyber security strategy since 2015. In addition, the Pentagon made it clear to the defense industrial base that along with the highest quality, the best cost and schedule, the expectation is that products and services also come secure.
"Cybersecurity is probably going to be what we call the fourth critical measurement. You know, we've got quality, cost, schedule," Deputy Secretary Patrick Shanahan said Wednesday of how the DOD evaluates its acquisitions. "Security is one of those measures that we need to hold people accountable for.*
Manufacturing mission critical electronics that keep the US and its military safe is Zentech's top priority, and therefore Zentech remains poised and ready to support the DOD with this new cyber security initiative. For the last year Zentech has invested time, finances and personnel resources into becoming NIST 800-171, DFARS 252.204-7012 and FAR 52.204-21 compliant.
This new strategy, which supersedes the 2015 strategy has 5 new objectives:
Ensuring the Joint Force can achieve its missions in a contested cyberspace domain.
Enhancing Joint Force military advantages through the integration of cyber capabilities into planning and operations.
Deterring, preempting, or defeating malicious cyber activity targeting U.S. critical infrastructure that is likely to cause a significant cyber incident.
Securing DoD information and systems, including on non-DoD-owned networks, against cyber espionage and malicious cyber activity.
Expanding DoD cyber cooperation with allies, partners, and private sector entities.
*Reference article courtesy of fedscoop.com
About Zentech: Zentech Manufacturing, Inc. is a privately held, engineering-driven contract manufacturer specializing in the design and manufacture of highly-complex electronic and RF circuit cards and assemblies. The company is headquartered in its purpose-built facility located in Baltimore, MD, and in Fredericksburg, VA, and maintains several key certifications, including ISO 9001:2015, ITAR (US State Dept.), AS9100D (aerospace), and ISO 13485 (medical). In addition, Zentech is a certified IPC Trusted Source supplier for Class 3 mission-critical electronics, and the company is IPC J-STD-001 Space Addendum QML certified and is now NIST 800-171 compliant. Zentech Fredericksburg operations is also a Mid-Atlantic leader in the fabrication of wire harnesses and over-molded cables for harsh environments.