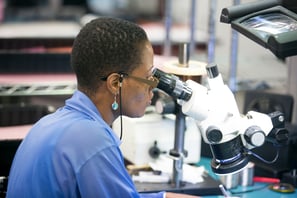 Are you looking for an experienced electronics manufacturing service to partner with in the new year? There are many to choose from, but differentiating between the best manufacturers and those that are sub-par, though, can initially seem tricky. In order to help you make the best and most educated decision possible, we've put together these nine essentials to look for when hiring an electronics manufacturing service.
1. Industry experience
It is always in your best interest to hire a contract manufacturing company that has an extensive history in the electronics industry. Those businesses that are well-established can be counted upon to provide high quality work, and will take pride in each board that they design and produce. Don't hesitate to ask your prospective manufacturer about how long they have been in business, and what their criteria is for hiring employees.
2. Highly Certified
Certifications such as AS9100, DD2345 and ISO 9001 demonstrate the commitment to excellence that a potential contract manufacturer has. Certifications provide a level of (objective) accountability that, first and foremost, protects you the customer. Certifications ensure that the contract manufacturer remains compliant with current industry standards, regulations, and best-practices which directly impact the quality and reliability of the products and services the electronics contract manufacturer builds.
3. Design capabilities
In addition to providing customers with an electronics manufacturing service, your outsource partner should also have design resources. Whether you need your project designed from scratch, or simply need a fresh set of eyes to review your current specs, the best electronics contract manufacturers have engineering services expertise to make sure your project is properly designed to achieve superior performance.
4. Advanced technologies
What type of tools, machinery, and equipment does your prospective electronics manufacturing service utilize? It's in your best interest to choose a company that takes advantage of all of the latest technologies to ensure that your products are developed to be highly reliable and effective, giving your company a competitive advantage in the marketplace.
5. Industry compliance
Never work with a contract manufacturing company that does not adhere to the most current industry standards. In addition to complying with various industry rules and regulations for design and manufacture, your partner company should be willing to comply with your specific standards for production. Standards like AS5553 for counterfeit parts mitigation and NIST 800-171 demonstrate that an contract manufacturer will handle your project professionally and responsibly.
6. Environmentally responsible
The best electronics manufacturing service providers will always take the environment into consideration. Make sure that your prospective manufacturer is Restriction of Hazardous Substances (RoHS) compliant and can help you convert any of your board's specific designs to an RoHS compliant plan. Not only will this protect our earth, but it will also demonstrate your adherence to environmental responsibility to your customers.
7. Product testing
Your contract manufacturing service should never be satisfied with simply producing a batch order of PC boards. Testing should always be performed to ensure that each unit produced is highly functional and performs as expected. Testing the products for any design flaws or issues can help you to analyze trends and catch major production errors without causing you to waste an excessive amount of time or money.
8. Supply chain management
Not all supply chain solutions will work for all electronics companies. Because of this, your contract manufacturer should have sourcing agreements for components and commodities from all around the globe, and be willing to meet your needs pertaining to contract requirements, preferred vendors, sourcing restrictions, etc. An EMS also should help your company prepare in advance for any component lead time issues, helping to deliver your product on time. A superior EMS is always aware of market conditions as it relates to your project.
9. Fulfillment Services
It's never a good idea to choose an electronics manufacturing service that does not provide excellent customer service post-production. A great company will offer fulfillment services including troubleshooting any faulty PC boards and making the necessary repairs before returning them from their depot. In the end, this will save you a lot of time and money on labor or on warranty replacement units.
Get the very most out of your electronics manufacturing service in 2018. By insisting on this set of criteria, you can easily pick out the best from the rest.
About Zentech: Zentech Manufacturing, Inc. is a privately held, engineering-driven contract manufacturer specializing in the design and manufacture of highly-complex electronic and RF circuit cards and assemblies.The company has facilities in Baltimore, MD (headquarters) and Fredericksburg, Va. and maintains several key certifications, including ISO 9001:2015, ITAR (US State Dept.) and AS9100 (aerospace). In addition, Zentech is a certified IPC Trusted Source supplier for Class 3 mission-critical electronics, and the company is IPC J-STD-001 Space Addendum QML certified.