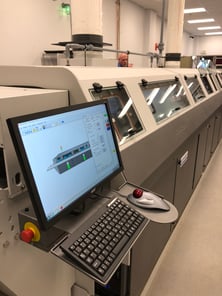 Zentech has added the Aquastorm 200C in-line cleaner to its robust equipment set. The Aquastorm was selected via an Extensive Design of Experiment (DoE) competitive selection process by Zentech engineers.
The system's wash and rinse cycles are closed loop, minimizing the machines impact on the environment, while maintaining an effective cleaning capability. The water utilized by the Aquastorm is first cleaned by a water treatment system. City water is precleaned by RO filters prior to treatment that removes heavy metals, anions, cations and organic contaminates from the water. Any organisms that might start to grow in the closed loop system are killed by UV light. The end result is that the water used to process Zentech assemblies is near lab purity.
The wash tank and rinse tank are uniquely configured with 33 spray bars of three types, and two giant pumps totaling 35 hp. Together they provide impressive water volume and pressure required for the various types of spray bars to clean effectively.
The 200C was developed specifically to clean BTC (Bottom Terminated Components) and Low Profile Devices. Zentech specializes in the manufacture of highly complex, extremely dense printed circuit boards, most with hundreds of bottom terminated components. The Aquastorm 200C is a welcome upgrade contributing to Zentech's continued success of manufacturing mission and life critical electronics.
About Zentech: Zentech Manufacturing, Inc. is a privately held, engineering-driven contract manufacturer specializing in the design and manufacture of highly-complex electronic and RF circuit cards and assemblies. The company is headquartered in its purpose-built facility located in Baltimore, MD, and in Fredericksburg, VA, and maintains several key certifications, including ISO 9001:2015, ITAR (US State Dept.), AS9100D (aerospace), and ISO 13485 (medical). In addition, Zentech is a certified IPC Trusted Source supplier for Class 3 mission-critical electronics, and the company is IPC J-STD-001 Space Addendum QML certified and is now NIST 800-171 compliant. Zentech Fredericksburg operations is also a Mid-Atlantic leader in the fabrication of wire harnesses and over-molded cables for harsh environments.