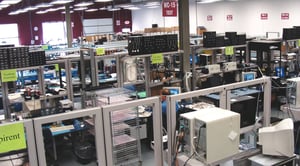 The following checks and balances ensure that a complex electronics build can be completed on time, on budget and with zero defects. Each practice in this process allows for adjustments or corrections to occur real time, instead of discovering them at the end of the build or worse, when it's already arrived at the end user.
New Product Introduction
To make your product a success, you need to ensure reliability and optimum functionality of the final product. If your company simply takes the data provided and immediately fabricates the product with no careful study of the data, materials or process, it will most likely result in faulty products and leaves you with unhappy customers. Careful review of the data before the manufacturing begins is extremely important.
Planning and Scheduling
The following planning and scheduling processes are essential:
Assembly Instructions (AI): actual detailed instructions used to assemble the product. These are generated during the New Product Introduction process.
Production Lot Traveler (PLT): This process is like a road map, containing the consecutive operations required to fabricate/assemble/inspect/test each item.
Master Schedule: The process flow is outlined in the Master Schedule for each assembly. There should be a standard production flow from Kit Pull through End Item Delivery. Each item must be defined through company work instructions, standard operating procedures, and other command media.
Multiple Inspections, Testing & Reporting
Inspections and testing should be multiple and strategically placed throughout the manufacturing process. Inspections that should be considered:
Incoming component inspections
FAI – First Article Inspection
AOI – Automated Optical Inspection
4D Flying Probe
Other Testing such as ICT (In Circuit Test), functional and environmental testing
During the assembly process, problems resulting from in process and final inspections must be recorded on Inspection Defect Reports. Production reports showing yield rates, types of defects, and number of defects should also be generated.
QMS System
All quality functions should be controlled under a Quality Management System (QMS) which is certified to ISO 9001-2015, ISO 13485 or AS9100 Standards. These systems should also be audited by outside auditors two times each year to ensure that all manufacturing processes meet the latest ISO requirements.
Certifications & Compliance
Certifications demonstrate the commitment to excellence of a contract manufacturer. Certifications provide a level of (objective) accountability and ensure that the contract manufacturer remains compliant with current industry standards, regulations, and best-practices which directly impact the quality and reliability of the products and services that the electronics contract manufacturer provides. The following is a list of key certifications and compliance standards that allow your company to stand out from the others.
ITAR registered
AS9100
IPC-J-STD-001 Space Addendum
ISO 13485
ISO 9001
About Zentech: Zentech Manufacturing, Inc. is a privately held, engineering-driven contract manufacturer specializing in the design and manufacture of highly-complex electronic and RF circuit cards and assemblies. The company is headquartered in its purpose-built facility located in Baltimore, MD, and in Fredericksburg, VA, and maintains several key certifications, including ISO 9001:2008, ITAR (US State Dept.), AS9100 (aerospace), and ISO 13485 (medical). In addition, Zentech is a certified IPC Trusted Source supplier for Class 3 mission-critical electronics, and the company is IPC J-STD-001 Space Addendum QML certified and is now NIST 800-171 compliant. Zentech Fredericksburg operations is also a Mid-Atlantic leader in the fabrication of wire harnesses and over-molded cables for harsh environments.