Are you looking for a qualified electronics manufacturing service to partner with? Being able to differentiate between the best manufacturers and those that fall short can be a challenge. If you're not exactly sure what non-negotiables to look for, we've put together these nine factors that you should insist upon before partnering with an electronics contract manufacturer.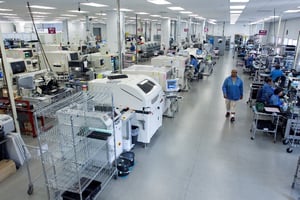 Mission Critical No. 1: Industry Experience
It is always in your best interest to partner with a contract manufacturing company that has an extensive history in the electronics industry. Those businesses that are well-established can be counted upon to provide high quality work, and will take pride in each board that they design and produce. Don't hesitate to ask your prospective manufacturer about how long they have been in business, who their core customers are, awards they have received, etc.
Mission Critical No. 2: Design Capabilities
In addition to providing customers with an electronics manufacturing service, your manufacturing partner should also have the ability to help you throughout your design processes. Whether you are starting completely from scratch, or simply need a fresh set of eyes to review your current specs, the best manufacturing companies can help you to streamline your plans and make them as efficient and effective as possible.
Mission Critical No. 3: Advanced Technologies
Too few EMS companies take the very tangible and costly steps to ensure their tools and equipment set is being continually updated to meet the evolving nature of products and technology. Investing in the best equipment set should be essential to a contract manufacturer who supports high-tech/high-reliability markets. This should be a non-negotiable differentiation to look for in a strong CM partner. Be sure to take a factory tour and see the equipment and technology first hand.
Mission Critical No. 4: Industry compliance
Never work with a contract manufacturing company that does not adhere to the most current industry standards. In addition to complying with various industry rules and regulations for design and manufacture, your manufacturing partner must be willing to comply with your specific standards for production. This is especially important for the milaero and defense markets when it comes to the cybersecurity requirements within the DoD contracting environment. An excellent manufacturing partner stays ahead of the curve and proactively works to adhere to the newest compliance standards.
Mission Critical No. 5: Program Management
Program Management is one of the keys to a successful relationship between Customer and Contract Manufacturer. How often will the Program Manager be communicating with you? What kind of task order environment will be established? How do they manage cost and schedules? Do they mitigate risk for your company? Are they aware of the latest supply chain market conditions? A truly competent contract manufacturer proactively communicates with its customer to seamlessly and efficiently manufacture your product.
Mission Critical No. 6: Product Testing
Your contract manufacturing service should never be satisfied with simply producing a batch order of PC boards. Testing should always be completed to ensure that each unit produced is highly functional and performs as expected. Testing the products for any design flaws or issues can help you to analyze trends and catch major production errors without causing you to waste an excessive amount of time or money. Testing is also especially important in mission and life critical environments as your product has to work the first time and every time. Partner with CM who takes your product as seriously as you do.
Mission Critical No. 7: Supply Chain and Risk Management
Tightly-controlled inventory management and supply chain tracking is vital for a successful electronics manufacturing process. Is your potential contract manufacturer going to do everything possible to protect the parts that build your products?
Mission Critical No. 8: Fulfillment Services
It's never a good idea to choose an electronics manufacturing service that does not take care of your needs post-production. A great company will offer fulfillment services including troubleshooting any faulty PC boards and making the necessary repairs before returning them from their depot. In the end, this will save you a lot of time and money on labor or on warranty replacement units.
Mission Critical No. 9: Certifications

Certifications provide a level of (objective) accountability that, first and foremost, protects you the customer. Certifications ensure that the contract manufacturer remains compliant with current industry standards, regulations, and best-practices which directly impact the quality and reliability of the products and services that the electronics contract manufacturer provides. Be sure that you partner with a contracts manufacturer who is highly certified.