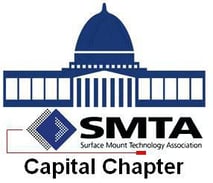 Zentech would like to invite you to SMTA Capital's Annual Tech Expo.
Held at Johns Hopkins University Applied Physics Lab this Thursday, August 24 from 9:00 AM – 3:00 PM, there is no better technical exchange, networking and exhibitor line-up in the Mid-Atlantic.
Join attendees from Northrop Grumman, JHU-APL, the DOD, NASA, Gemalto, Ciena, Lockheed Martin, Leidos, Harris, Raytheon, Stanley Black and Decker, Orbital, DRS and many others!
We have an excellent technical program lined up, featuring industry experts from across the US, 47 exhibitors, a live equipment demo and lunch is provided!
Is your interest high-technology printed circuit boards? Come visit with representatives from Amitron, ASC, Colonial Circuits, Compunetics, Electronic Interconnect, Prototron, and Summit Interconnect.
Looking for an outstanding electronics contract manufacturer? Regional leaders ACDI and Zentech will be exhibiting and available to discuss your most difficult electronics manufacturing requirements.
Are you manufacturing your own electronic products? See our full list of manufacturing systems and consumable exhibitors here.
Our featured presentation is a live demo on the exhibit floor of Essemtec's FOX System, previewed here.
About Surface Mount Technology Association (SMTA)
The SMTA membership is an international network of professionals who build skills, share practical experience and develop solutions in electronic assembly technologies, including microsystems, emerging technologies, and related business operations. For more information or to join, please visit
www.smta.org
.
About Zentech
: Zentech Manufacturing, Inc. is a privately held,

engineering-driven

contract manufacturer specializing in the design and manufacture of highly-complex electronic and RF circuit cards and assemblies. The company is headquartered in its purpose-built facility located in Baltimore, MD and maintains several

key certifications, including ISO 9001:2008, ITAR (US State Dept.), AS9100 (aerospace), and ISO 13485 (medical). In addition, Zentech is a certified IPC Trusted Source supplier for Class 3 mission-critical electronics, and the company is IPC J-STD-001 Space Addendum QML certified.